This song article is lacking a proper background. You can help by adding one! The relevant section in the Song Article Guideline is a good starting point, and this blog post may also be helpful. We apologize for the inconvenience this may cause in the meantime.

Song pages lacking proper backgrounds are automatically sorted into this category.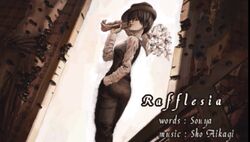 Song title
"Rafflesia"
Uploaded Jan.31.2011, with 19,000+ (NND) views
Singer(s)
MEIKO
Producer(s)
Aikagi Sho (music)
Souya (lyrics)
Yasu (mix)
Show (illustration)
Malis (video)
Links
Niconico Broadcast
Background
Edit
This song had been selected for a MEIKO V3 demo using her POWER Voicebank.
Succeeding versions
Edit
MEIKO V3's Version

Featuring
MEIKO
Author(s)
Aikagi Sho
Category
VOCALOID cover

Description

A V3 demo featuring MEIKO V3 POWER
Japanese (日本語歌詞)
Romaji (ローマ字)
棘が刺さった想い出には
toge ga sasatta omoide ni wa
打ち捨てられてた花束
uchisute rare teta hanataba
どうでもいいことばかりでも
dou demo ii koto bakaride mo
忘れられなくて
wasure rarenakute


破れた 気持ちを縫っては
yabureta kimochi o nutte wa.
剥がした 矛盾の絵画
hagashita mujun no kaiga


ラフレシア 美しさなど
rafureshia utsukushi-sa nado
測れるものじゃないでしょう
hakareru mono janaideshou
ラフレシア 刹那の恋は
rafureshia setsuna no koi wa
独り言でいいでしょ
hitorigotode ii desho


グラスを満たす後悔だけ
gurasu o mitasu koukai dake
飲み干してまた吐き出した
nomihoshite mata hakidashita
何が大事なことかなんて
nani ga daijina koto ka nante
今は知らないわ
ima wa shiranai wa


綺麗な 花びらの裏は
kirei na hanabira no ura wa
汚れた 孤独な猛毒
kegareta kodokuna mōdoku


ラフレシア 秘めた言葉は
rafureshia himeta kotoba wa
口に出せば腐るでしょう
kuchi ni daseba kusarudeshou
ラフレシア 酸いも甘いも
rafureshia suimoamaimo
噛み過ぎて忘れた
kami sugite wasureta


綺麗な 花びらの裏は
kireina hanabira no ura wa
汚れた 孤独な猛毒
kegareta kodokuna mōdoku


"Que sera,sera" 映画のセリフ
"Que sera, sera" eiga no serifu
呟いて気取ってみても
tsubuyaite kidotte mite mo
"Que sera,sera" 不埒な夜に
"Que sera, sera" furachina yoru ni
廻り巡って消えてゆく
mawari megutte kiete yuku


ラフレシア 美しさなど
rafureshia utsukushi-sa nado
測れるものじゃないでしょう
hakareru mono janaideshou
ラフレシア 刹那の恋は
rafureshia setsuna no koi wa
独り言でいいでしょ
hitori goto de ii desho
External links
Edit
| | |
| --- | --- |
| | Articles |