Ad blocker interference detected!
Wikia is a free-to-use site that makes money from advertising. We have a modified experience for viewers using ad blockers

Wikia is not accessible if you've made further modifications. Remove the custom ad blocker rule(s) and the page will load as expected.
This song article is lacking a proper background. You can help by adding one! The relevant section in the Song Article Guideline is a good starting point, and this blog post may also be helpful. We apologize for the inconvenience this may cause in the meantime.

Song pages lacking proper backgrounds are automatically sorted into this category.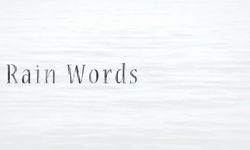 Song title
"RainWords"
Uploaded October 21, 2011, with 5,900+ views
Singer(s)
Mew
MIRIAM (chorus)
Producer(s)
Staffroll-P (music)
Sahara (lyrics)
Links
Niconico Broadcast
Background
Edit
"RainWords" is an original song by Staffroll-P and Sahara featuring Mew.
Japanese (日本語歌詞)
Romaji (ローマ字)
紡ぎ糸 微細な音
tsumugi ito bisai na oto
天からこの場所に来て
ten kara kono basho ni kite
冷たく澄んだ更紗の滄
tsumetaku sunda sarasa no soumei
心は人知れず、逆さまに
kokoro wa hitoshirezu, sakasama ni
愛を呟いて
ai o tsubuyaite
いつまでも緩やかに巡る
Itsu made mo yuruyaka ni meguru
退屈に泳いで
taikutsu ni oyoide
in the pool of rain
だけど、あの透明な声
dakedo, ano toumei na koe
沈みゆく思いで
shizumiyuku omoi de
so fragile and faint
いまは、甘やかに染まれ
ima wa, ama ya ka ni somare
別れ告げたなら
wakare tsugeta nara
どこまでも夜のまま睡る
doko made mo yoru no mama nemuru
曖昧を彷徨う
aimai o samayou
again and again
それは、あたたかな夢
sore wa, atataka na yume
嘘吐きを許そう
uso haki o yurusou
with a drop of pain
静かに呼吸をして
shizuka ni kokyuu o shite
紐解いて
himotoi te
in the pool of rain
だけど、あの透明な声
dakedo, ano toumei na koe
沈みゆく思いで
shizumiyuku omoi de
so fragile and faint
いまは、甘やかに染まれ
Ima wa, ama ya ka ni somare
External links
Edit
| | |
| --- | --- |
| | Articles |
| | |
| --- | --- |
| | Lyrics |