Ad blocker interference detected!
Wikia is a free-to-use site that makes money from advertising. We have a modified experience for viewers using ad blockers

Wikia is not accessible if you've made further modifications. Remove the custom ad blocker rule(s) and the page will load as expected.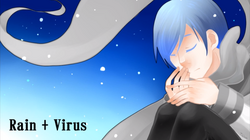 Song title
Rain + Virus
Uploaded June 21, 2013, with 4,000+ (NN) and 7,000+ (YT) views
Singer(s)
KAITO V3 (lead vocal) with EmpathP (harmony)
Producer(s)
EmpathP (music, lyrics, background vocals/harmonies)
Kistithen (image)
Links
Niconico Broadcast • YouTube Broadcast

Background
Edit
The sequel to "Rose + Thorn". The tune and melody of this song is recycled and remastered from one of EmpathP's first original songs.
This song is featured on the album Three Hearts. It is also featured on EmpathP's utaite album Aki Ni as a bonus track.
Tracing all
The shadows on my wall
The way you used to do

My heart recalls
With each teardrop that falls
What time turned us into

Thinking back on
Those moments long gone
There's nothing I'd want to change
Is that wrong?

Rain clouds slowly gathering
Thunder softly echoing
I've given into all

Washing away my heartache
Such a bitter pill to take
Only to find in the end

I've caught the virus again

In the sky
The light flickers and dies
With every move I make

So I'll sleep on
Hide myself from the dawn
Too hard to stay awake

Looking back to
That person you knew
Would you ever recognize
What I've become?

Rain clouds slowly gathering
Thunder softly echoing
I've given into all

Washing away my heartache
Such a bitter pill to take
Only to find in the end

I've caught the virus again

Washing away my heartache
Such a bitter pill to take
Only to find in the end

I've caught the virus again
Derivatives
Edit
Sai Mackne's Cover

| | |
| --- | --- |
| Featuring | Sai Mackne |
| Author(s) | Kazuko, Suzuaki (illust) |
| Category | UTAU cover |