This song article is lacking a proper background. You can help by adding one! The relevant section in the Song Article Guideline is a good starting point, and this blog post may also be helpful. We apologize for the inconvenience this may cause in the meantime.

Song pages lacking proper backgrounds are automatically sorted into this category.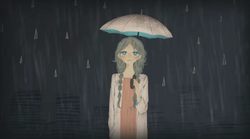 Song title
"Rainy Day"
Uploaded June 28, 2013, with 12,000+ views
Singer(s)
SeeU
Producer(s)
kimpaksa (music, lyrics)
Iyo (illust)
Zenrua (movie)
Links
YouTube Broadcast
Background
Edit
| | | |
| --- | --- | --- |
| " | Feelings was composed on a rainy day. | " |
"Rainy Day" is an original SeeU song by kimpaksa, who is one of the members for Team. Hurihuri.
Korean (한국어 가사)
Romaja (로마자)
창가에 맺혀진 차디찬 빗방울
changga-e maechyeojin chadichan bitbang-ul
슬퍼하듯 수북히 떨어지네
seulpeohadeut subukhi tteoreojine


내리쬐는 가로등
naerijjoeneun garodeung
내려오는 빗소리
naeryeo-oneun bitsori
마음 깊은 곳을 아프게 해
ma-eum gipeun goseul apeuge hae


비오는 밤 홀로 빗소릴 들으며
bioneun bam holro biesoril deureumyeo
한없이 걸어가네
han-eopsi georeogane


아무도 없는 고독한 내 마음
amudo eomneun godokhan nae ma-eum


비가 내려와 내려와
biga naeryeowa naeryeowa
비가 내려와 내려와
biga naeryeowa naeryeowa
공허함과 외로움이 왜 내 맘을 옥죄게 해
gongheohamgwa oeroum-i wae nae mam-eul okjoege hae


비가 내려와 내려와
biga naeryeowa naeryeowa
비가 내려와 내려와
biga naeryeowa naeryeowa
위로는 필요 없어 삭일 뿐이야
wironeun piryo eopseo sagil ppun-iya


항상 그랬어 당연하니까
hangsang geuraesseo dang-yeonhanikka
External links
Edit
| | |
| --- | --- |
| | Lyrics |
| | |
| --- | --- |
| | Downloads |
Ad blocker interference detected!
Wikia is a free-to-use site that makes money from advertising. We have a modified experience for viewers using ad blockers

Wikia is not accessible if you've made further modifications. Remove the custom ad blocker rule(s) and the page will load as expected.