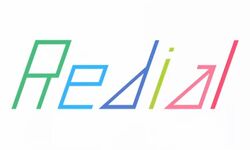 Song title
"Redial"
Uploaded March 20, 2013, with 4,030,200+ views
Singer(s)
Hatsune Miku
Producer(s)
kz(livetune) (music, lyrics)
Takashi Murakami(Kaikai Kiki) (director)
mebae (key animator, character design)
Kaikai Kiki Sapporo STUDIO PONCOTAN (animation production)
Ken Maeda (choreographer)
STAG (concept design for musician's studio)
galaxxxy (costume design, background pattern for dance scenes)
Hidemi Li (editor)
Links
YouTube Broadcast
Background
Edit
"Redial" is the promo song for the official Hatsune Miku guidebook "Mikupedia".
This song was released as a single and is featured on the albums Re:Dial and Re:Upload.
Preceding versions
Edit
Redial -teaser-

Featuring
Hatsune Miku
Author(s)
kz(livetune)
Category
Preceding version

Description

Teaser trailer for the song released on March 1, 2013.
Japanese (日本語歌詞)
Romaji (ローマ字)
君の為に僕らの為に 今も声をかき鳴らして
kimi no tame ni bokura no tame ni ima mo koe wo kakinarashite
始まりから続くサステインを
hajimari kara tsudzuku sasutein wo
君にも伝えたいから
kimi ni mo tsutaetai kara


いつの間にか白む 真ん中の音
itsunomanika shiramu mannaka no oto
探し回っても散り散りになって
sagashimawatte mo chirijiri ni natte
大切にしなきゃって わかっていたのに
taisetsu ni shinakya tte wakatte ita no ni
目まぐるしく変わってく日々に
memagurushiku kawatte ku hibi ni
戸惑って
tomadotte


最初に描いてた 空色のフォトグラフ
saisho ni egai teta sorairo no fotogurafu
思い出して 久しぶりにダイアルに触れるよ
omoideshite hisashiburini daiaru ni fureru yo


ずっと詩を音を綴って 遠く刻み続けている
zutto uta wo oto wo tsudzutte tooku kizami tsudzukete iru
まだ傷は増えてくけど その先見たいから
mada kizu wa fuete kukedo sono saki mitaikara
明日の君に 明日の僕らに
asu no kimi ni asu no bokura ni
届くようにかき鳴らすの
todoku you ni kakinarasu no
まだ見ぬ誰かが創る調べが この胸震わせるから
mada minu dareka ga tsukuru shirabe ga kono mune furuwaseru kara


一人きりの部屋で 爪弾いた音
hitori kiri no heya de tsumabiita oto
誰かに届けるわけでもなくて
dareka ni todokeru wakede mo nakute
はじけ飛んだ色は 全て塗り替えて
hajike tonda iro wa subete nurikaete
僕らを知らない場所に運んでいった
bokura wo shiranai basho ni hakonde itta


足元は暗いけど ただ歩き続けてた
ashimoto wa kuraikedo tada aruki tsudzuke teta
だけど気が付けば 昨日が光を照らしていたの
dakedo kigatsukeba kino ga hikari wo terashite ita no


ずっと詩を音を綴るよ たとえ声を失っても
zutto uta wo oto wo tsudzuru yo tatoe koe wo ushinatte mo
始まりから続いてるサステインに乗せて
hajimari kara tsudzuiteru sasutein ni nosete
君の為に 僕らの為に 浮かぶ涙拭い去って
kimi no tame ni bokura no tame ni ukabu namida nugui satte
遠くに霞んだはずの昨日が この胸震わせるから
tooku ni kasunda hazu no kino ga kono mune furuwaseru kara


答えの無い迷路が 僕や君を 笑ってても
kotae no nai meiro ga boku ya kimi wo warattete mo
今を超えて 奏でられる 物語が導くから
ima wo koete kanaderareru monogatari ga michibiku kara


ずっと詩を音を綴って 遠く刻み続けている
zutto uta wo oto wo tsudzutte tooku kizami tsudzukete iru
まだ傷は増えてくけど、その先見たいから
mada kizu wa fuete kukedo, sono saki mitai kara
明日の君に 明日の僕らに
asu no kimi ni asu no bokura ni
届くようにかき鳴らすの
todoku you ni kakinarasu no
まだ見ぬ誰かが創る調べが この胸震わせるから
mada minu dareka ga tsukuru shirabe ga kono mune furuwaseru kara
External links
Edit
| | |
| --- | --- |
| | Articles |
| | |
| --- | --- |
| | Lyrics |