Ryuto

Biographical information
Gender

Male

Product information
Company

Internet Co., Ltd.

Language

Japanese 

Distributor

Internet Co., Ltd.

Voice

Kuniko Amemiya

Illustrator

An unknown #7 (SSW\2010)

Code

VA-GP01(初回版GP01G)

Affiliation

YAMAHA
FujiTV Kids ("Hirake! Ponkikki")
Gachapin

Website
Ryūto (リュウト) is a Japanese VOCALOID developed and distributed by Internet Co., Ltd. as Gachapoid (ガチャッポイド), and was released in October 2010 for the VOCALOID2 engine. His voice is provided by Japanese voice actress, Kuniko Amemiya (邦子雨宮; Kuniko Amemiya).
Etymology
Edit
His software name, "Gachapoid", is based on the name "Gachapin", the character he is modeled after. The suffix "poid" on the end of the name is short for "like Vocaloid". Thus, the full implied name of this product is "Gachapin-like Vocaloid".
Appearance
Edit
His appearance is based loosely on Gachpoid's own appearance. It also takes aspects of Yamaha's "Yamaha XG" midi sound card.
VOCALOID Releases
Edit
Other Software
Edit
Gachapoid is the only VOCALOID of the VOCALOID2 vocal with additional vocal software support.
Vocaloid-flex
Edit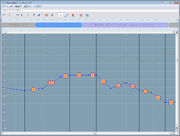 Gachapoid has access to the Vocaloid-flex engine and is used in conjunction with the software "V-Talk". V-Talk allows Gachapoid to be used in new ways, opening new methods of delicate editing to alter his vocal results.[1] He is the first commercial VOCALOID to have access to this engine. Previously, only the prototype voicebank by Crypton Future Media, CV-4Cβ, was known to have used this engine. The result was that Ryuto's voice had potential that other VOCALOIDs did not.
Users can use this for 6 months, free of charge from the date of installation.
Examples of Usage
Edit
To our readers and editors, for section notes please read; this page.
Before adding translated or subbed videos, please read this tutorial in order not to list gravely mistranslated ones.
gacha☆パワー!
Error of Love
夢のトンネル

Author(s)
internetakias1
Romaji/English
Yume no ton'neru (Tunnel Of Dream)
Category
Original song
Featuring
Ryuto
Niconico YouTube
糸電話

Author(s)
Bruschetta51
Romaji/English
Ito denwa (Phone thread)
Category
Original song
Featuring
Ryuto
Niconico YouTube (by author)
Marketing
Edit
Gachapoid was marketed as a children's VOCALOID designed for singing childrens' songs. He was aimed at young producers. His human form was released late after the announcement, along with his human avatar's name of "Ryuto". He was a departure from the more standard box packages that VOCALOID™ had offered previously. He was also released as a promotional tie-in with a Gachapin promotion.
A special promotional CD case was offered at his time of release.
SequencerPlus
Edit
Gachapoid has a SequencerPlus page.
Additional information
Edit
Popularity
Edit
Ryuto Popularity
Sales
Reaction
Ryuto is amongst the lesser used Vocaloids in Japan and the least popular of the Internet co., Ltd VOCALOIDs.
Impact
Ryuto 's Gachapoid software was initially considered for an "Extend" version in 2011, but no further plans for this update have been reported from Internet co. Ltd. In 2013, they confirmed Gachapoid would not get a V3 update.
Misc.
An independent search on Nico Nico Douga revealed that most VOCALOIDs had less than 1,000 videos uploaded on Nico Nico Douga in 2011 between July 1st and December 15th. Ryuto fell into this category.[2]
His human form wasn't added until right before his release and is not on his box, unlike many other VOCALOIDs. Therefore, early works by fans featured a very different character than the one ultimately introduced, or Gachapin himself takes Gachapoid's place as the song mascot. More art was later added of his humanoid character.[3]
His mascot's name "Ryuto" wasn't revealed until the illustrations of his humanoid form were released.
He was the first VOCALOID by Internet co., Ltd not to be a "VOCALOID artist" voicebank.
Ryuto is based on Gachapin, but he isn't Gachapin himself.
Notable for...
Edit
First VOCALOID aimed at children.
First young vocal from INTERNET Co.
First commercial VOCALOID to use "Vocaloid-flex"
First canceled VOCALOID project to be restarted by the original company. (V3 Gachapoid)
References
Edit
External links
Edit
Official :
Fandom :
Internet Co

Vocalists
VOCALOID 2
VOCALOID 3
Providers
Games
Misc.
VOCALOID by Voicebank gender factor