This song article is lacking a proper background. You can help by adding one! The relevant section in the Song Article Guideline is a good starting point, and this blog post may also be helpful. We apologize for the inconvenience this may cause in the meantime.

Song pages lacking proper backgrounds are automatically sorted into this category.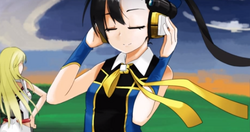 Song title
"SHINAVRO"
Uploaded February 5, 2014, with 900+ views
Singer(s)
SeeU
Producer(s)
OTAR (music)
Sterlet (managing, directing)
ReiN "Yang" (mixing, mastering)
Links
YouTube Broadcast
Background
Edit
The first song in a SeeU mini-series created for "Project Handal".
Hangul (한국어 가사)
Romaja (로마자)
어느 날 올려 보았던 하늘의 저편 쏟아져 내리던 밤하늘이
eoneu nal ollyeo boattdeon haneurui jeopyeon ssotjyeo naerideon bamaneuri


작고 어렸던 꼬마의 눈엔 그저 신기했었죠
jakgo eoryeottdeon kkoma-ui nunen geujeosingi haesseojjyo
눈동자에 비쳐 빛나는 달님이 다정하게 내게 말했죠
nun donjae bichyeo binnaneun dalnimi dajeong hage naege malhae
어서 자라서 여기 올라와보렴
eoseo jara seo yeogi ollawaboryeom


"어떡하면 좋을까, 어떻게닿을 수 있을까" 그렇게 생각하며
"eotteokhamyeon choheulkka, eotteokedae-ul su isseulkka" geu reoke saeng gakha myeo
오늘도 꼬마는 조금씩 자라요
oneuldo kkomaneun jogeumssik jarayo


멀리 창공을 날길 꿈-꿔 빛나는 날개를 펴고
malli chang gongeul nalgil kkum – kkwo binnaneun nalgaereul pyeogo
땅을 박차고 높이 날아가- 달님에 닿을 때까지
ttangeul bakchago nupinalaga – dalneome daheul ttaekkaji
기대하고 바래왔던 세상을 느끼기 위해
gidae hago baraeattdeon sesangeul neukkigi wihae
구름 넘어 머나먼 저편으로 마음을 싣고 날아가자
gureum neomeo meonameon jeopyeoneuro ma-eumeul sitgo naragaja


그렇게 오랜 시간이 지나간 뒤에 문득 꼬마는 깨달았어요
geureoke oraen sigani jinagan dwie mundeuk kkomaneun kkaedarasseoyo
이제는 손이 닿을 수 있어 계속 자라왔어요
ijeneun soni daheul su isseo gyesok jara asseoyo
"언제까지고 넌 꼬마가 아니야" 속삭이는 별과 달님이
"eonjekkajigo neon neon kkomaga aniya" sok sakineun byeolgwa dalnimi
"어서 오너라" 나를불러주네요
"eoseo oneora" nareul bulleo juneyo


이? 갈 수 있어요 마음에 피어난 날개에
ijen galsu isseoyo ma-eume pieonan nalgaee
별빛 잔뜩 머금어 크게 퍼덕여서 높이 날아올라
byeolbit jantteuk meogeumeo keuge peodeokyeoseo nopi naraolla


멀리 달님을 향해 날아 빛나는 날개를 펴고
meolli dalneomeul hyanghae nara binnaneun nalgaereul pyeogo
땅을 박차고 높이 날아가- 별빛에 닿을 때까지
ttangeul bakchago nopinalaga – byeolbiche daneul ttaekkaji
어릴 적에 꿈꿔왔던 세계를 보기 위하여
eoril jeoke kkumkkwo attdeon segyereul bogi wihayeo
시련 넘어 머나먼 저편으로 열정을 싣고 날아가자
siryeon neomeo meonameon jeopyeoneuro yeoljeomeul sitgo naragaja


칠흑 같은 밤하늘에 빛나는 달님 나를 보며 하얗게 웃고
chilheuk gareun bamaneure binnaneun dalnim nareul bomyeo hayake utgo


별들도 내 곁에 와서 날- 감싸며 춤을 추는
byeoldeuldo nae gyeore waseonal – gamssamyeo chumeul chuneun
그렇게 꿈꾸고 바라던 순간이 내게 다가 온 거야-
geureoke kkumkkugo baradeon sungani naege daga on geoya
그대 꿈을 이루기 위해 밤하늘을 항해하자
geureoke kkumeul irugi wihae bamaneureul hanghaehaja
항로는 희망이라는 바다, 뱃길을 가르쳐줄게
hangroneun huimang iraneun bada, baetgireul gareuchyeojulge
등대도 없던 바다에 빛이 되어주기 위해
deungdaedo eoptdeon badae bichi doeeojugi wihae


누구보다 더 높이 멀리 날아 간 곳에 함께 웃어줄게
nuguboda deo nupi meolli nara gan gote hamkke useojulge
External links
Edit
| | |
| --- | --- |
| | Lyrics |
Ad blocker interference detected!
Wikia is a free-to-use site that makes money from advertising. We have a modified experience for viewers using ad blockers

Wikia is not accessible if you've made further modifications. Remove the custom ad blocker rule(s) and the page will load as expected.