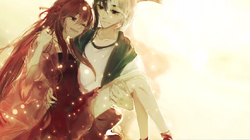 Song title
"Sea for you"
Uploaded October 2, 2015, with 160,000+ views
Singer(s)
Yuezheng Ling
KYO (as Longya, harmonies)
Producer(s)
Coin Music Studio: Dongdian-P (compose, arrange)
Guluo (lyrics)
Qinlingximo (video editor)
Fengshi (illustrator)
Links
YouTube Broadcast (reprint)
bilibili Broadcast

Background
Edit
"Sea for you" is an original Yuezheng Ling song. Yuezheng Longya appears as a cameo and they travel around the seaside together.
Longya borrows the voice of KYO from ZOLA PROJECT as he did not have his own voicebank when this song released. In the talkloid at the end of the PV, he complains about Ling being too heavy and she reacted in anger, retaliating with violence.
This song has exceeded 100,000 views on bilibili.
Chinese (中文歌词)
Pinyin (拼音)
踏着泡沫 晃着洋伞
tazhe paomo huangzhe yang san
跳起舞蹈 步伐慵懒
tiao qi wudao bufa yong lan
太阳之下 微风散漫
taiyang zhi xia weifeng sanman
有不同的恬淡
you butong de tiandan
何时诞生 何时存在
he shi dansheng he shi cunzai
何时成长 何时相爱
he shi chengzhang he shi xiang'ai
深海之中 他的到来
shenhai zhi zhong ta de daolai
有不同的斑斓
you butong de banlan


他微笑着伸出手
ta weixiaozhe shen chushou
海星闪烁点亮了温柔
haixing shanshuo dian liangle wenrou
牵着手顺着海流尽情地遨游
qian zhuoshou shunzhe hailiu jinqing de aoyou
眼中的每一秒都变得好久
yanzhong de mei yi miao dou bian de haojiu


Sea for you


如何解析 梦的成分
ruhe jiexi meng de chengfen
如何测量 他的体温
ruhe celiang ta de tiwen
悠闲漫步 红珊瑚城
youxian manbu hong shanhu cheng
消散所有烦闷
xiaosan suoyou fanmen
他诉说着 云上天空
ta sushuozhe yun shang tiankong
落下雨滴 架起彩虹
luoxia yudi jia qi caihong
两颗心脏 交叠手中
liang ke xinzang jiao die shouzhong
有相同的颤动
you xiangtong de chandong


为你诞生 为你存在
wei ni dansheng wei ni cunzai
模糊的答案
mohu de da'an
就算等待 就算离开
jiusuan dengdai jiusuan likai
眼前这片海 纷繁
yanqian zhe pian hai fenfan


揭开那片帷幕后
jie kai na pian weimu hou
漫天晚霞 晕红了问候
mantian wanxia yun hongle wenhou
海风中倒映浪花和谐的演奏
haifeng zhong daoying langhua hexie de yanzou
寻常的每一秒都变得生动
xunchang de mei yi miao dou bian de shengdong


Sea for you
External links
Edit
| | |
| --- | --- |
| | Articles |