Ad blocker interference detected!
Wikia is a free-to-use site that makes money from advertising. We have a modified experience for viewers using ad blockers

Wikia is not accessible if you've made further modifications. Remove the custom ad blocker rule(s) and the page will load as expected.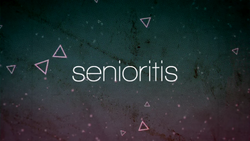 Song title
"Senioritis"
Uploaded May 23, 2014, with 12,160+ views
Singer(s)
OLIVER
Producer(s)
Corasundae (music, lyrics, video)
mugenjohncel (school model)
Links
YouTube Broadcast
Background
Edit
The song was made from the producer's feeling of confusion upon having their last day of high school and being unsure of their future choices, whilst still having hope that things will be changed for better. The singer conveys this emotion, not minding respect but still asking for someone else to make decisions and guide him, as he is still unable to take too much responsabilities.
The chipped paint in the hallways
Is dull and gray just as always
Another day eating lunch by myself
This is the last thing I would want

I won't see that face again
And already we're so distant
Another week heading home all alone
It's like a neverending taunt

Just relax
Your future's fine
Is that the truth?
It feels like such a lie

The answers swish around in my mind
But I don't want to read the signs

So please don't be so tough
I swear I'm not an adult
Have mercy on me
It's not impossible
That I still might not know quite enough

Tell me who to trust
Don't treat me like a child, but
Just cover my eyes and don't deceive me
Tell me lies but do it honestly

Amidst a sea of endless tests
I don't have time to rest
I wanna relax, focusing on today
And yet tomorrow's still in sight

Yes or no?
Or wrong or right?
I want to choose
No, someone else decide

The answers swish around in my mind
'cause nothing's ever really defined

So please don't be so rough
I swear I'm not an adult
Have mercy on me
It's not impossible
That I still might not know quite enough

Tell me who to love
Don't treat me like a child, but
Just cover my eyes and don't deceive me
Tell me lies but do it honestly

We haven't reached the end of this yet
But already I know I regret
Not doing more or doing less of anything at all

So please don't be so tough
I swear I'm not an adult
Have mercy on me
It's not impossible
that I still might not know quite enough

Tell me who to trust
Don't treat me like a child, but
Just cover my eyes and don't deceive me
Tell me lies but do it honestly
What surprise might our future be?
All that I can do is wait and see
External links
Edit
| | |
| --- | --- |
| | Lyrics |
| | |
| --- | --- |
| | Downloads |