Ad blocker interference detected!
Wikia is a free-to-use site that makes money from advertising. We have a modified experience for viewers using ad blockers

Wikia is not accessible if you've made further modifications. Remove the custom ad blocker rule(s) and the page will load as expected.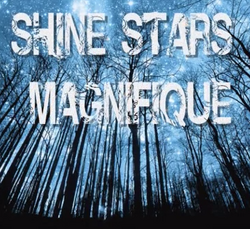 Song title
"Shine Star, Magnifique"
Uploaded February 25, 2014, with 1,000+ (YT) / 270+ (NND) views
Singer(s)
MAIKA
Producer(s)
IALJC-P (music)
J.L. Coll Poetry (lyrics)
Links
Niconico Broadcast • YouTube Broadcast (private)

Background
Edit
An entry in the MAIKA Original Song Contest, created by IALJC-P with lyrics written by J.L. Coll Poetry. The piece supposedly tells the story of a Parisian model, and her perspectives and views on life, and how she was once a shining star herself before fading to the light of other's lights.
Hey, look up at the sky
How magnific is
How magnific is in the highs
Shining bright

Whispering shyly
Our deadtime
On this beautiful world
Magnifique

How magnific are these
little stars
They're shining bright
oh, it's magnifique

Little stars hanging out
And whispering
To the sky's hearing
Our deadtime

On this beautiful world

How magnific are these
little stars
They're shining bright
Oh its magnifique

Shine stars; Oh magnifique

How magnific
Was my short life
I was a shining star
Magnifique

How magnific are these
little stars
They're shining bright
Oh its magnifique

Shine stars; oh magnifique
How magnific are these little stars
They're shining bright
Oh its magnifique

Shine stars, oh magnifique