Ad blocker interference detected!
Wikia is a free-to-use site that makes money from advertising. We have a modified experience for viewers using ad blockers

Wikia is not accessible if you've made further modifications. Remove the custom ad blocker rule(s) and the page will load as expected.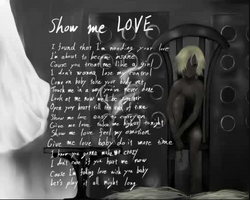 Song title
"Show Me LOVE"
Uploaded February 01, 2008, with 1,480+ views
Singer(s)
LOLA
Producer(s)
Yosshi (music, lyrics)
Links
Niconico Broadcast
Background
Edit
Yosshi's first song with LOLA.
The first version of the song was uploaded with Yosshi's vocals on January 10, 2008. In February 1, 2008 a version with LOLA was uploaded on Yosshi's channel with the original tag.
Preceding versions
Edit
Yosshi's Cover

| | |
| --- | --- |
| Featuring | Yosshi |
| Author(s) | Yosshi |
| Category | Human cover |
 I found that I'm needing your love
I'm about to become insane
Cause you treat me like a girl
I don't wanna lose my control

Come on baby take your body wet,
Teach me in a way you've never done
Look at me now we'll be together
Open up your heart till the end of time

Show me love Show me love easy to carry on
Give me love Give me love take me higher tonight
Show me love Show me love feel my emotion
Give me love Give me love baby do it more time

I know you gamma make me crazy
I don't care if you hurt me now
Cause I'm falling in love with you baby
Let's play it all night long

Come on baby take your body wet,
Teach me in a way you've never done
Look at me now we'll be together
Open up your heart till the end of time

Show me love Show me love easy to carry on
Give me love Give me love take me higher tonight
Show me love Show me love feel my emotion
Give me love Give me love baby do it more time

Show me love Show me love easy to carry on
Give me love Give me love take me higher tonight
Show me love Show me love feel my emotion
Give me love Give me love baby do it more time

Come on baby take your body wet,
Teach me in a way you've never done
Look at me now we'll be together
Open up your heart till the end of time

Show me love Show me love easy to carry on
Give me love Give me love take me higher tonight
Show me love Show me love feel my emotion
Give me love Give me love baby do it more time

Show me love Show me love easy to carry on
Give me love Give me love take me higher tonight
Show me love Show me love feel my emotion
Give me love Give me love baby do it more time
External links
Edit
| | |
| --- | --- |
| | Lyrics |