Ad blocker interference detected!
Wikia is a free-to-use site that makes money from advertising. We have a modified experience for viewers using ad blockers

Wikia is not accessible if you've made further modifications. Remove the custom ad blocker rule(s) and the page will load as expected.
©

Notice:

This song is no longer available publicly; the original upload has been ceased by the Producer. Take caution with reprints as the Producer can still claim copyright infringement.

The Vocaloid Wiki does not have a policy on lyrical contents or themes no longer being available from its original source, however, it attempts to follow the Wikia TOU, the Author must contact Administrators or Wikia Staff for such concerns.
For further discussion see Thread:107893. Ceased songs are automatically sorted into this category.

©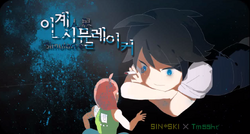 Song title
"Side S : 인계시뮬레이커"
Romaja: Side S : Ingye Simyulleikeo
English: Side S : Human World Simulacre
Uploaded August 25, 2013, with 109,800+ views
Singer(s)
SeeU
Producer(s)
SIN*SKI (music, lyrics, movie)
Tmsshr (illust)
Links
YouTube Broadcast (private)

Background
Edit
An original SeeU song written by SIN*SKI. This is related to music storytelling project, "Project SFS".
Succeeding versions
Edit
Project SFS ~Lostless Memories~ Ver.

Featuring
Requiem
Author(s)
SIN*SKI (music, lyrics), This is Parallel World (arrange)
Category
Human cover

Description

Human cover featured in SIN*SKI's album, "Project SFS ~Lostless Memories~".
Korean (한국어 가사)
Romaja (로마자)
바뀌지 않는다 했던 모든 것들이 바뀌어버려서
bakkwiji anneunda haetdeon modeun geotdeuri bakkwieobeoryeoseo
살아 숨쉬는 것마저 변해버린 자들의 것이야
sara sumswineun geonmajeo byeonhaebeorin jadeurui geosiya
혼자서 할 수 있는 것 따윈 아무 것도 없는데
honjaseo hal su inneun geot ttawin amu geotdo eomneunde
이곳엔 나 뿐이니까 좀 더 많은 내가 필요해
igosen na ppuninikka jom deo manheun naega piryohae


셀 수 없이 많은 날 만들고 만들어서
sel su eopsi manheun nal mandeulgo mandeureoseo
좀 더 많은 행동을 해낼 수가 있다면
jom deo manheun haengdongeul haenael suga itdamyeon
아마 그것만으로 가치가 있겠지만
ama geugeonmaneuro gachiga itgetjiman


내가 만들고 만들어낸 약간의 공간의 인간들도
naega mandeulgo mandeureonaen yakgan-ui gonggan-ui ingandeuldo
만들고 만들고 만들수록 또 다르게 바뀌어버리고 말아
mandeulgo mandeulgo mandeulsurok tto dareuge bakkwieobeorigo mara


바뀌지 않을 것 같던 세상은 이미 사라졌겠지
bakkwiji anheul geot gatdeon sesangeun imi sarajyeotgetji
살아 숨쉬는 것들은 이제 우리들만이 남았어
sara sumswineun geotdeureun ije urideulmani namasseo
모두가 함께 할 수 있는 건 아무 것도 없는데
moduga hamkke hal su inneun geon amu geotdo eomneunde
너무나 많은 내가 생겨서 아무 것도 못하고
neomuna manheun naega saenggyeoseo amu geotdo mothago


내가 잘라내 만들어낸 시간의 순간의 자아들도
naega jallanae mandeureonaen sigan-ui sungan-ui jaadeuldo
잘라내 잘라내 만들수록 형태를 왜 바꿔버리는 건데!
jallanae jallanae mandeulsurok hyeongtaereul wae bakkwobeorineun geonde!


이제야 알겠어 혼자 할 수 없는 건
ijeya algesseo honja hal su eomneun geon
여럿이 아니라 혼자만이 가능해
yeoreosi anira honjamani ganeunghae
그래서 정했어 필요 없어진 나는
geuraeseo jeonghaesseo piryo eopseojin naneun
지금, 이 나만이 모두 없앨 수 있어
jigeum, i namani modu eopsael su isseo


목표를 정한 눈동자는 멈추지 않고 끝없이 달려
mokpyoreul jeonghan nundongjaneun meomchuji anko gyesok kkeudeopsi dallyeo
만들고 만들고 만들었던 나를 모두 지우기 위해
mandeulgo mandeulgo mandeureotdeon nareul modu jiugi wihae
하나하나 사라져 가는 내 안의 기억과 추억들은
hanahana sarajyeo ganeun nae an-ui gieokgwa chueokdeureun
다시는 돌이킬 수 없는 폐기물 상자에 쌓여만 가고
dasineun dorikil su eomneun pyegimul sangja-e ssayeoman gago
다시 돌아온 시작점은 몇 번의 실패를 거듭해서
dasi doraon sijakjeomeun myeot beon-ui silpaereul geodeuphaeseo
시작의 가치를 잃을 때 쯤 또 다른 상자를 발견하고 말아
sijagui gachireul ireul ttae jjeum tto dareun sangjareul balgyeonhago mara
External links
Edit
| | |
| --- | --- |
| | Lyrics |