Ad blocker interference detected!
Wikia is a free-to-use site that makes money from advertising. We have a modified experience for viewers using ad blockers

Wikia is not accessible if you've made further modifications. Remove the custom ad blocker rule(s) and the page will load as expected.

©

Notice:

This song is no longer available publicly; the original upload has been ceased by the Producer. Take caution with reprints as the Producer can still claim copyright infringement.

(Due to the producer involved, the validity of this song has been questioned. It is present on the wiki for archive purposes.) The Vocaloid Wiki does not have a policy on lyrical contents or themes no longer being available from its original source, however, it attempts to follow the Wikia TOU, the Author must contact Administrators or Wikia Staff for such concerns.
For further discussion see Thread:107893. Ceased songs are automatically sorted into this category.

©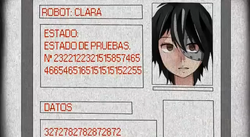 Song title
"Sistema Recargado"
English: Overloaded System
Uploaded September 8, 2012, with 4,300+ (YT), and 860+ (NND) views
Singer(s)
Clara
Producer(s)
Ulises Montiel Cuevas
Links
Niconico Broadcast (Official) • YouTube Broadcast

Background
A robot named Clara is being used for various testing and experiments in a laboratory. At some point her circuitry shorts-out, which results in her no longer following the orders of the scientist. She eventually takes control of the facility and traps the experimenters; subjecting them to the same actions they did to her. This leads to the death of all of them.
The illustration featured in the PV-less upload is not Clara, it is an original character by Otsumami on Pixiv.
Succeeding versions
Official PV

Featuring
Clara
Author(s)
Ulises Montiel Cuevas (music, lyrics), Kazuyo49 Shimizu (PV)
Category
PV

Description

A fanmade PV by Kazuyo49, which eventually it was adopted as official by Keitaro.
Lyrics
soy una marioneta
que no es perfecta
hecha de cables viejos
sin un solo sentimiento

todos los dias usada
como si no fuera nada
eh sido torturada
y muchas veces desarmada



DANGER   RECHARGED SYSTEM

sistemas corruptos
daño colateral

mando no procesado
varios circuitos dañados
el sistema ah colapsado
pronto veran su final



sientes miedo?

sientes el dolor?

deja que yo experimente

con tu corazon

sientes miedo?

sientes el dolor?



seras tu mi marioneta
aunque no seas perfecta
hecha de carne y hueso
como si no estuvieras muerto

todos los dias usado
como si no fuera humano
vas a ser torturado
y muchas veces desarmado

soy una marioneta
que no es perfecta
hecha de cables viejos
sin un solo sentimiento

todos los dias usada
como si no fuera nada
eh sido torturada
y muchas veces desarmada



DANGER   RECHARGED SYSTEM

sistemas corruptos
daño colateral

mando no procesado
varios circuitos dañados
el sistema ah colapsado
pronto veran su final



sientes miedo?

sientes el dolor?

deja que yo experimente

con tu corazon

sientes miedo?

sientes el dolor?

deja que yo experimente

con tu corazon
Derivatives
galaco's Cover

| | |
| --- | --- |
| Featuring | galaco |
| Author(s) | ShionNezumi6 |
| Category | VOCALOID cover |
SeeU's Cover

| | |
| --- | --- |
| Featuring | SeeU |
| Author(s) | Laura Megurine |
| Category | VOCALOID cover |