Ad blocker interference detected!
Wikia is a free-to-use site that makes money from advertising. We have a modified experience for viewers using ad blockers

Wikia is not accessible if you've made further modifications. Remove the custom ad blocker rule(s) and the page will load as expected.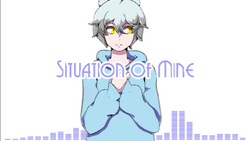 Song title
"Situation Of Mine"
Uploaded June 25, 2016, with 20,814+ (YT) / 2,138+ (SC) views
Singer(s)
DEX
Producer(s)
Gianluca "MakkuSan" (music, lyrics)
Aku-P (mixing help)
Aku-P & Quakamoley (composing help)
Links
YouTube Broadcast
SoundCloud Broadcast
Bandcamp
Background
Edit
"Situation Of Mine" is an original song composed by Gianluca "MakkuSan" and is available for digital download via BandCamp.
Can you hear my voice?
Sensations running through this body of yours
I just cannot pretend like you don't see
What's happening to me
What's going on in me
And I can't even look at you in the eyes
I can't even speak to you with no lies
And i can't even move i'm frozen like ice
But I've fallen for you and there's nothing I can do

Let's begin today
I wanna love you just like every day
I feel the weight of this
Love that
Does not seem to be requited,
Captivated
In this
('Cause this)
(Is this?)
(Why this?!)
(I am...)
(In this)
(For you)
In this...
...Situation of mine
I can't get out, no, I...

Love you,
I can't say it out loud and
What you don't know
About me is my real strength
But it's also
What forbids me rest at night
But I can't get saved from this
Situation Of Mine.

Reaching through the noise
My voice is like an echo, so is yours.
You don't even pretend that you don't see
What has happened to me,
It's too late, can't you see?
And I can't even bear the stare that you spare,
I can't even stay still and stand for my will,
And I will fix with fire the fact you're alive.
But I've fallen for you, it's not something I would do

In this
('Cause this)
(Is this?)
(Why this?!)
(I am...)
(In this)
(For you)
In this...
...Situation of mine
I can't get out, so, I...
Situation "don't mind"
"That is just what defines..."

"...you."

Love you,
I can't say it out loud and
What you don't know
About me is my real strength
But it's also
What forbids me rest at night
But I can't get saved from this
Situation Of-

Love you,
I can't say it out loud and
What you don't know
About me is my real strength
But it's also
What forbids me rest at night
But I can't get saved from this
Situation Of Mine.

Love you,
Just two words I don't know and
What you don't know
About me just kills me but
It is also
What restricts me from dying
Just a whole, big contradiction's
What I ended being.

Love you,
I can't say it out loud and
What you don't know
About me is me real strength
But it's also
What forbids me rest at night
But I can't get saved from this
Situation Of Mine.

Mine

Derivatives
Edit
RUBY's Cover

| | |
| --- | --- |
| Featuring | RUBY |
| Author(s) | Kalfina-P |
| Category | VOCALOID cover |
External links
Edit
| | |
| --- | --- |
| | Official |
| | |
| --- | --- |
| | Downloads |
MEGA Official VSQx + MIDI Download
| | |
| --- | --- |
| | Articles |