Ad blocker interference detected!
Wikia is a free-to-use site that makes money from advertising. We have a modified experience for viewers using ad blockers

Wikia is not accessible if you've made further modifications. Remove the custom ad blocker rule(s) and the page will load as expected.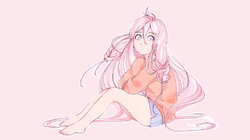 Song title
"Smile For Me"
Uploaded July 14, 2015, with 1,000+ views
Singer(s)
IA
Producer(s)
Dreamochi (music, lyrics)
jpgkid (illustration)
Links
YouTube Broadcast
Background
Edit
"Smile For Me" is an original IA song. A young girl decides to end a relationship with her loved one despite not wanting to on the inside. Secretly regretting her decisions and making the other feel sorrowful, she wishes she could disappear, and the other would "forget everything". She wants to try and smile, so long as their loved one does the same.
Japanese (日本語歌詞)
Romaji (ローマ字)
君をわかりたいんだよ
kimi o wakaritain dayo
全部わかりたいんだよ
zenbu wakaritain dayo
君の名残僕は泣かない
kimi no nagori boku wa nakanai
まだお願いできるかな
mada onegai dekiru kana


ずっと一緒とか言ってたくせに 君のそばにいてあげられなくて
zutto issho toka itteta kuse ni kimi no soba ni ite age rare nakute
ごめんねって許して
gomen ne tte yurushite
悲しい事は何も無いけど
kanashii koto wa nani mo nai kedo
わかりますか
wakarimasu ka


ごめんねを君に言いたくて
gomen ne o kimi ni iitakute
私を信じて
watashi o shinjite


いつの日にか終わると気付いていたのに
itsu no hi nika owaru to kizuite ita noni
二度と戻れないけど願いは一つ
nidoto modorenai kedo negai wa hitotsu
私の事なんか忘れておねがい幸せな日々を送ってね
atashi no koto nanka wasurete onegai shiawase na hibi o okutte ne
すべて忘れて
subete wasurete


ありふれてる幸せに恋した そんな時が今も優しくて
arifureteru shiawase ni koishita sonna toki ga ima mo yasashikute
お別れの時間だね
owakare no jikan dane
ずっと一緒とか言ってたくせに 君のそばにいてあげられなくて
zutto issho toka itteta kuse ni kimi no sobani ite age rare nakute
ごめんねって許して
gomen ne tte yurushite


悲しい事は何も無いけど
kanashii koto wa nani mo nai kedo
わかりますか
wakari masuka
ごめんねを君に言いたくて
gomen ne o kimi ni iitakute
私を信じて
watashi o shinjite


いつの日にか終わると気付いていたのに
itsu no hi nika owaru to kizuite ita no ni
二度と戻れないけど願いは一つ
nidoto modorenai kedo negai wa hitotsu
私の事なんか忘れておねがい幸せな日々を送ってね
atashi no koto nanka wasurete onegai shiawase na hibi o okutte ne
すべて忘れて
subete wasurete
External links
Edit
| | |
| --- | --- |
| | Downloads |