Ad blocker interference detected!
Wikia is a free-to-use site that makes money from advertising. We have a modified experience for viewers using ad blockers

Wikia is not accessible if you've made further modifications. Remove the custom ad blocker rule(s) and the page will load as expected.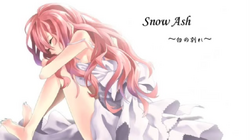 Song title
"Snow Ash~白の別れ~"
Romaji: Snow Ash ~Shiro no Wakare~
English: Snow Ash ~White Parting~
Uploaded October 11, 2010 (NND) and October 13, 2010 (YT), with 4,100+ (NND) / 4,300+ (YT) views
Singer(s)
Megurine Luka
Producer(s)
Yama△ (music, lyrics)
Yukino~setsu~, kazuha, Raichou, Miriko, Kadzuki, Kurimatiusu, Ameiro, Kyouzip (illust)
Links
Niconico Broadcast • YouTube Broadcast (official)

Background
Edit
Snow Ash~白の別れ~ is Yama△'s sixth solo original Vocaloid work.
It was featured of Laboratory.
Japanese (日本語歌詞)
Romaji (ローマ字)
手と手つないでも 温まらないの
te to te tsunaide mo atatamaranai no anata no
あなたのその視線 どこか遠くへ
sono shisen doko ka tooku e


白い息だけが 私を温める
shiroi iki dake ga watashi o atatameru
雪に残る足跡 ここから別れていく
yuki ni nokoru ashiato koko kara wakareteiku


あなたのいないこの世界なら全て 白く塗りつぶして
anata no inai kono sekainara subete shiroku nuritsubu shite
月日が経てば、この空にも笑顔が きっと戻るはずだから
tsukihi ga tateba, kono sora ni mo egao ga kitto modoru hazudakara


振り返る消えかけた、二人のこれまでの 跡…
furikaeru kie kaketa, futari no kore made no ato…


もうすぐ春なのに まだ降る白い雪が
mou sugu haru nanoni mada furu shiroi yuki ga
私を苦しめ続け まだ心の 何処かに
watashi o kurushime tsudzuke mada kokoro no dokoka ni


お願いだから言うことを聞いてよ 私の手が拒む
onegaidakara iu koto o kii te yo watashi no te ga kobamu
最後の一枚どうしても消せないよ まだこんなに思ってる
saigo no ichi-mai doushitemo kesenai yo mada konnani omotteru


冷たい雪届かない 涙の温度には まだ…
tsumetai yuki todokanai namida no ondo ni wa mada…


あなたのいない この世界のどこかに
anata no inai kono sekai no dokoka ni
居場所なんて… あるの?
ibasho nante… aru no?


最後の言葉 さよならの色なんて出せないけど いまはこれでいい
saigo no kotoba sayonara no iro nante dasenai kedo ima wa kore de ii


あなたが笑ってくれる唯一の笑顔 もうこれだけ
anata ga waratte kureru yuiitsu no egao mou kore dake
灰になり雪に溶け 混じる幻想 舞い上がる
hai ni nari yuki ni toke konjiru gensou maiagaru
External Links
Edit
| | |
| --- | --- |
| | Articles |