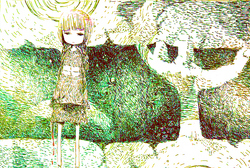 Song title
"Soft Water"
Uploaded Feb 27, 2014, with 2,000+ views
Singer(s)
MAIKA
Producer(s)
u2kushi (music, lyrics)
hirary (illustration)
Links
YouTube Broadcast
Background
Edit
"
I worked SUPER DUPER HARD ON THIS

I downloaded a bunch of new vsts and some sample packs and I experimented alot so I p much spent almost all of my time on this lmao yeee I hope you guys like it! btw this is a sequel to 'My Disbelief'

"
One of the first entries for the MAIKA Original Song contest, and a sequel to the author's song "My Disbelief", which was written prior to the contest.
It is featured in the album, My Disbelief.
Fading away like
the soft water that
damps my hair
and resurrects our love
that faded like sand

Ice cold words shot
through my head
and spewed out like the
tears I saw you cry just then
with remorseful lies

Tears down your face
Reflecting a cruel me
That drained someone
of their excellent
faith and belief

Fading away like
the soft water that
damps my hair
and resurrects our love
that faded like sand

Ice cold words shot
through my head
and spewed out like the
tears I saw you cry just then
with remorseful lies

Fading away like
the soft water that
damps my hair
and resurrects our love
that faded like sand

Ice cold words shot
through my head
and spewed out like the
tears I saw you cry just then
with remorseful lies
External links
Edit
| | |
| --- | --- |
| | Articles |
| | |
| --- | --- |
| | Official |
pixiv - Official Illustration