This song article is lacking a proper background. You can help by adding one! The relevant section in the Song Article Guideline is a good starting point, and this blog post may also be helpful. We apologize for the inconvenience this may cause in the meantime.

Song pages lacking proper backgrounds are automatically sorted into this category.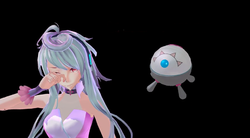 Song title
"Solitaria Agonia"
English: "Lonely Agony"
Uploaded March 10, 2014, with 1,400+ views
Singer(s)
MAIKA
Producer(s)
Jezoyam (music, lyrics, PV, mixing)
Chibideko (MMD model)
Takemura Kimz (arrangement, tuning)
Links
YouTube Broadcast
Background
Edit
"Solitaria Agonia" is an original song by Jezoyam featuring MAIKA.
La soledad me provoca
Quema el alma, me sofoca
He vivido este tiempo
Sin sentido, Sin tu aliento
Me haces falta, necisito…
De tu risa, no te siento…
Me arrepiento a esta hora
Verte muerto me ahoga

Hoy dia… sola estoy…
Ya no estas… mi amor…
Vuelta atras… puedo ver…
Mi error… te mate…

"Lo siento amor…"
"Pero…"
"Es la unica forma de lograr mi objetivo"
"Adios."

Aquel dia, esa cara...
Se ha ido por la trampa...
En un dia no deseado
Llega un hombre a mi lado
Aquel hombre habia dicho
Que mi sueño estaría hecho
Si lo oía, mi anhelo…
Cumpliría mi deseo

Si es que yo mataba…
A mi amor… lo ahogaba…
Solo por dejar de…
Amarlo, lo maté…
No debí nunca desear…
Si con otro quería estar…
¿Por qué por ti… no dejo… de llorar?
Nunca me podré perdonar
Amar a dos hombres no es lo ideal…
Locura y tortura…

Deberé pagar…
External links
Edit
| | |
| --- | --- |
| | Lyrics |
Ad blocker interference detected!
Wikia is a free-to-use site that makes money from advertising. We have a modified experience for viewers using ad blockers

Wikia is not accessible if you've made further modifications. Remove the custom ad blocker rule(s) and the page will load as expected.