Ad blocker interference detected!
Wikia is a free-to-use site that makes money from advertising. We have a modified experience for viewers using ad blockers

Wikia is not accessible if you've made further modifications. Remove the custom ad blocker rule(s) and the page will load as expected.
The following song article is still a work in progress. For information on how to help, see the song article guideline. We apologize for the inconvenience this may cause in the meantime.

Work-in-progress song pages are automatically sorted into this category.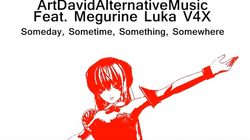 Song title
"Someday, Sometime, Something, Somewhere"
Uploaded November 21, 2015, with 100+ views
Singer(s)
Megurine Luka
Producer(s)
ArtDavidAlternativeMusic (music, lyrics)
Links
YouTube Broadcast
Background
Edit
The riff of the song is based off Placebo's "The Bitter End", and rhythm is from Therapy's "Nowhere". Borrowing large parts of its melody from John Mayer's "Bigger Than My Body".
I'll set you free
No delay
How does it feel
Make a heavy sound
Coming up
I was alone

I'll do my best
Someday, Sometime
Something, Somewhere
Anyone who felt like I do, I miss you so
Anywhere every time that we're alone, I want to go
I'm going to take you anywhere

Making me run
And we all say
Everyone's at it
Why can't we all
This happen this way
In the real world
Where have I been

I'm a guillotine
Someday, Sometime
Something, Somewhere
I wish somebody loved me too, in my dream
Somehow I'd like to get to know him and I leave you
You make it beautiful somehow

Something, Taj Mahal
Someone in the world
Someday we'll know
Somewhere I belong
Someday, Sometime
Something, Somewhere
Anyone who felt like I do, I miss you so
Anywhere every time that we're alone, I want to go
Anyone who's loving you and anywhere your love goes
And I don't love you anymore, I love you anymore
Love you more
External links
Edit