X

This song list page is locked indefinitely until the mentioned VOCALOID is featured in a highly viewed work. Only those with Administrators status have editing access to this page. Please contact an Administrator or comment below if mentioned VOCALOID has achieved a notable status and only if there are editors available to contribute to the page.

Similar pages are automatically sorted into this category.

X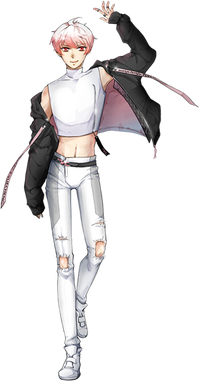 This page presents a list of notable songs featuring VOCALOID Yuecheng (悦成).
The songs are sorted by upload date based on the view counts of their original broadcasts on Niconico, YouTube, bilibili, and other media hosts. Unless under special circumstances, reprint view counts are ineligible. Additionally, these songs feature Yuecheng alone as the singer, not with a duet partner or as part of a group. For song articles, see Songs featuring Yuecheng (category).
Notice
To our readers and editors: For section notes, please read this tutorial. And before adding translated videos, please read this tutorial. Don't forget to "Preview" an edit and double-check the result after you have inserted the template. Be sure to check the video link fields, as video links have a greater possibility of being dead or wrongly entered.
How to search for original songs
It is common for producers to title their work with keywords such as "Original" or "Cover".
English - Original song : Cover song
Spanish - Canción original : Cover español
Japanese - オリジナル曲 : カバー曲
Chinese - 原创歌曲 : 翻唱歌曲
Korean - 원래노래 : 커버 곡
Notable original songs
This section presents Yuecheng original songs with video views ranging from below one million to 2,000.
Looking For You

Producer(s)

irecorder, digger (tuning), Kechorman (lyrics), Huduoduo (compose),

Dr. Yun

(arrange, mixing), Rishin (video),

CleverCool

(illustrator, lyrics)

Main article
Looking For You
Blind

Producer(s)

Digger (tuning), irecorder (tuning, arrange, mixing), Nalanxunfeng (lyrics), CleverCool (lyrics, illustrator), Dr. Yun (compose, arrange, mixing), Rishi n, Baodaodao (video)

Main article
Blind
More works by Dr. Yun
Key To Next

Producer(s)

Irecorder, Digger (tuning), Kechorman (lyrics), Dr. Yun (compose, arrange, mixing), Rish n, Baodaodao (video), CleverCool (illustrator)

Main article
Key To Next
More works by Dr. Yun