Ad blocker interference detected!
Wikia is a free-to-use site that makes money from advertising. We have a modified experience for viewers using ad blockers

Wikia is not accessible if you've made further modifications. Remove the custom ad blocker rule(s) and the page will load as expected.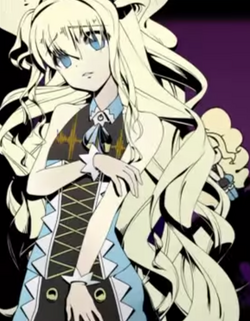 Song title
"Spooky Cookies"
Uploaded December 8, 2012, with 6,000+ views
Singer(s)
SeeU
Producer(s)
udaque (music, lyrics)
Chyamong (movie)
Kanurue (logo design)
Links
YouTube Broadcast
Background
Edit
"Spooky Cookies" is an original Korean song by udaque featuring SeeU. It was written as a Halloween special to celebrate the holiday.
| Korean (한국어 가사) | Romaja (로마자) |
| --- | --- |
| 침묵의 열두시 식은 호흡들 | chimmugui yeoldusi sigeun hoheupdeul |
| 기억 속에 접어 둔 망령들이 하나 둘 셋 넷 되살아나는 | gieok soge jeobeo dun mangryeongdeuri hana dul set net doesarananeun |
| 축복 받은 오염 속 오늘을 기념해 | chukbok badeun oyeom sok oneureul ginyeomhae |
| 구멍으로 엿보는 호박 속의 군중 | gumeongeuro yeotboneun hobak sogui gunjung |
| 땅에서 피는 꽃처럼 나타나는 좀비 | ttangeseo pineun kkotcheoreom natananeun jombi |
| 숨막히는 추억색 살빛 쿠키를 깨물고 그들을 맞이해 | summakhineun chueoksaek salbit kukireul kkaemulgo geudeureul majihae |
| 묻어뒀던 공포감들은 큰 원을 그리고 | mudeodwotdeon gongpogamdeureun keun woneul geurigo |
| 다 같이 모여서 춤을 추자 새벽까지 | da gachi moyeoseo chumeul chuja saebyeogkkaji |
| 어서와 친구들 오랜만이야 | eoseowa chingudeul oraenmaniya |
| 오늘 만큼 무시할 수가 없구나 | oneul mankeum musihal suga eopguna |
| 너는 내 어떤 옛날 악몽을 부활 시키기 위해 찾아 온 거니 | neoneun nae eotteon yennal angmongeul buhwal sikigi wihae chaja on geoni |
| 어딜 가든 날아와 괴롭히는 유령 | eodil gadeun narawa goerophineun yuryeong |
| 친구인 듯 다가와선 등을 돌린 악마 | chingu-in deut dagawaseon deungeul dollin akma |
| 다시 떠올리게 하지 마 | dasi tteoollige haji ma |
| 예전에 아물은 상처를 찾아내 | yejeone amureun sangcheoreul chajanae |
| 오늘 같은 날은 울지 마 | oneul gateun nareun ulji ma |
| 한 줄로 나란히 다 같이 모여서 | han jullo naranhi da gachi moyeoseo |
| 노래하자 큰 소리로 | noraehaja keun soriro |
| 쿠키를 깨물고 그들을 맞이해 | kukireul kkaemulgo geudeureul majihae |
| 묻어뒀던 공포감들은 큰 원을 그리고 | mudeodwotdeon gongpogamdeureun keun woneul geurigo |
| 다 같이 모여서 춤을 추자 영원히 | da gachi moyeoseo chumeul chuja yeongwonhi |
External links
Edit
| | |
| --- | --- |
| | Lyrics |