Ad blocker interference detected!
Wikia is a free-to-use site that makes money from advertising. We have a modified experience for viewers using ad blockers

Wikia is not accessible if you've made further modifications. Remove the custom ad blocker rule(s) and the page will load as expected.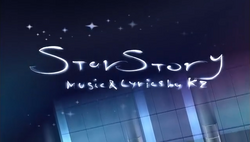 Song title
"Star Story"
Singer(s)
Hatsune Miku
Producer(s)
kz (music, lyrics)
Links
Background
Edit
"Star Story" is a song by kz (livetune), sung by Hatsune Miku. It was commissioned by SEGA for the game Hatsune Miku -Project DIVA-. The lyrics speak of wanting to send an unreachable person a song - a "star story" - by singing through the sky and across the stars. With a tempo of ~140 beats per minute, the song is mainly electropop in genre, bearing noticeable stylistic resemblance to kz's hit "Last Night, Good Night". "Star Story" has never been officially uploaded, remaining exclusive to albums and the Project DIVA games.
This song is featured on the Tell Your World EP. Its Project DIVA edit is featured on the album Hatsune Miku: Project DIVA Original Song Collection.
Japanese (日本語歌詞)
Romaji (ローマ字)
空に浮かぶ 月のように
sora ni ukabu tsuki no you ni
手を伸ばしても 君を掴めない
te o nobashite mo kimi o tsukamenai
闇の向こう 触れる未来
yami no mukou fureru mirai
叫んでみても 声は途絶えて
sakende mite mo koe wa todaete


いつか伝わるかな
itsuka tsutawaru ka na
風に乗せた言葉
kaze ni noseta kotoba


宇宙を越えて 星を越えて
sora o koete hoshi o koete
君に届け このメッセージ
kimi ni todoke kono messeeji
時を越えて 光越えて
toki o koete hikari koete
君に歌う Star Story
kimi ni utau Star Story


♬


無音の夜 遠く彼方
muon no yoru tooku kanata
わずかに滲む 君の温もりを
wazuka ni nijimu kimi no nukumori wo
感じ取って 頬を寄せて
kanjitotte hoo o yosete
そんな願いも 届かずにいて
sonna negai mo todokazu ni ite


いつか伝えたいの
itsuka tsutaetai no
全て込めた歌を
subete kometa uta o


宇宙の果てへ 星の果てへ
sora no hate e hoshi no hate e
君に届け このメッセージ
kimi ni todoke kono messeeji
夜を越えて 光越えて
yoru o koete hikari koete
君に捧ぐ Star Story
kimi ni sasagu Star Story


♬


宇宙を越えて 星を越えて
sora o koete hoshi o koete
君に届け このメッセージ
kimi ni todoke kono messeeji
時を越えて 光越えて
toki o koete hikari koete
君に歌う Star Story
kimi ni utau Star Story
Other media appearances
Edit
External links
Edit
| | |
| --- | --- |
| | Articles |
| | |
| --- | --- |
| | Lyrics |
bambooXZX - Lyrics source (Note: the English translation has a few mistakes)