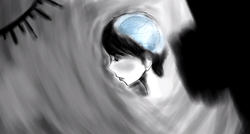 Song title
"Strada Nera"
Uploaded January 27, 2015, with 170+ views
Singer(s)
MAIKA
Producer(s)
Mi:Elen (music, lyrics, video, illust)
Links
YouTube Broadcast
Background
Edit
| | | |
| --- | --- | --- |
| " | Thank you Voctro Labs for this amazing Vocaloid! | " |
Strada Nera is an original song by Mi:Elen featuring MAIKA.
Italian
English
Strada nera
Black Road
Non si vede
You can not see
Non si crede
You do not believe
È tutto scuro
It's all dark
Nella strada nera
In the black road


La paura mi mangia interra
The fear eats me entirely
Nessuno mi aiuta, sto cascando
Nobody helps me, I'm falling
Cerco di convivere con tutti
I try to live with everyone
Ma mi abbandono, mi danno affanno
But they abandon me, they give me anxiety
Non e possibile di rimanere
It's not possible to stay
Allora mi buto nella Strada Nera
Then I throw me in the black road


Non dimenticherò queste cicatrice
I don't forget the scars
Degli giorni passati
Of past days
Mi danno invece forza da pensare
Instead they give me strength to think
Cosa io faccerò
What I will do
/con le vostre vite/
/With your lives/


O fatto tutto, loro non volevano
I done everything for them, ignored
Ciò adesso li do il mio regalo
Then now I will give them my present
Anche se mi rompo, il mio futuro
Even if I break my future
Mia testa e già abbastanza rotta
My head can't resist anymore longer
Nemmeno se io mi riprendo
Even if I do I recover
Non posso più camminare
I can not walk anymore


Io tiro la spada, mi sto avvicinando
I pull the sword, I'm getting closer
Nessuno mi vede
No one see me
Il sangue che scora fa vedere nel buio,
The blood flow in the dark,
Un bel rosso tappeto
show a beautiful red carpet
/non sono convinta/
/I am not convinced/


Adesso si sente
Now you feel
Il odore
The smell
Della vendetta
of revenge
Nel buio della strada
In the black road


Adesso lo so che
Now I know that
Tutto era falso
Everything was false


Mi faceva vedere
It made me see
Una visione falsa
A false vision


La strada nera
The black road
È vera spagliata
It is really false


Ho fatto cose
I did bad things
Mi vedo nel specchio
I see myself in the mirror
Le lacrime asciutte
The tears dry
Che grande dolore
What a great pain


E mi giro ancora
And I turn around again
E mi giro di novo
And I turn around again
E mi giro ancora
And I turn around again
E mi giro DI NOVO
And I turn around again
External links
Edit
| | |
| --- | --- |
| | Downloads |
Ad blocker interference detected!
Wikia is a free-to-use site that makes money from advertising. We have a modified experience for viewers using ad blockers

Wikia is not accessible if you've made further modifications. Remove the custom ad blocker rule(s) and the page will load as expected.