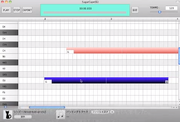 SugarCape is a vocal synthesizer developed by sota, only available for use on Mac OS X Snow Leopard 1.6.8 or above.
The newest version now called SaltCase Alpha 0.0.2 uses a tripitch voicebank, and it is assumed that it has been given a sort of "prefix.map", similar to that of an UTAU voicebank. This function allows transitions between pitches to be more natural, rather than giving in to the harsh distortion of the sample as it goes deeper. 
sugarcape

| | |
| --- | --- |
| Featuring | SugarCape |
| Author(s) | なんてこったい on NND |
| Category | Demonstration |
External Voices
Edit
In addition to the preset voice in SugarCape, one can add a voice to be compatible with the program. This has been done with Nagone Mako, and several other UTAU voicebanks. Some have thought of importing the "Macne Series" into SugarCape.
Media List
Edit
Resources
Edit
External links
Edit
Ad blocker interference detected!
Wikia is a free-to-use site that makes money from advertising. We have a modified experience for viewers using ad blockers

Wikia is not accessible if you've made further modifications. Remove the custom ad blocker rule(s) and the page will load as expected.