Ad blocker interference detected!
Wikia is a free-to-use site that makes money from advertising. We have a modified experience for viewers using ad blockers

Wikia is not accessible if you've made further modifications. Remove the custom ad blocker rule(s) and the page will load as expected.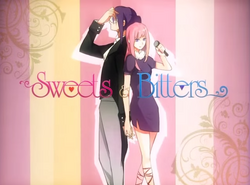 Song title
"Sweets & Bitters"
Uploaded Feb 22, 2011, with 129,000+ (NND) & 285,000+ (YT) views
Singer(s)
Camui Gackpo and Megurine Luka
Producer(s)
Yuuto (music, lyrics)
KK.FUNK (Sound arrange mix)
ピロ (tuning)
solactra (tuning)
CAxis (illust, movie)
mallory (encode)
うぃんぐ (special thanks)
Links
Niconico Broadcast • YouTube Broadcast

Background
Edit
"Sweets & Bitters" is an original song by Yuuto with Camui Gackpo and Megurine Luka.
| Singer | Color |
| --- | --- |
| Gackpo | Purple |
| Luka | Pink |
| Both | Black |
Japanese (日本語歌詞)
Romaji (ローマ字)

アイラインをひいてマスカラをつける

airain wo hiite masukara wo tsukeru

洒落た BAR に入るため

shareta BAR ni hairu tame

僕はスーツに身を包み

boku wa suutsu ni mi wo tsutsumi

君の事を待ってた

kimi no koto wo matteta




高いヒールで背伸び

takai hiiru de senobi

キスの高さも合う

kisu no takasa mo au

色とりどりのカクテル

irotoridori no kakuteru

テーブルのキャンドル達が

teeburu no kyandoru tachi ga

戸惑いを消してく

tomadoi wo keshiteku




大人びた仕草 いつの間にか見とれてる

otonabita shigusa itsunomani ka mitoreteru

憧れてた摩天楼 歓楽街の誘い

akogareteta mantenrou kanrakugai no izanai

今日はそれに合わせてみる

kyo wa sore ni awasete miru



甘えも嫉妬も喜びに変えて
amae mo shitto mo yorokobi ni kaete
求めるばかりじゃつまらないから
motomeru bakari ja tsumaranai kara
尽きない優しさをあげる
tsukinai yasashiisa wo ageru

DA KARA 君を 帰さない

DA KARA kimi wo kaesanai




ルージュは薄めにほのかな perfume

ruuju wa usume ni hono kana perfume

ホテルの KEY を受け取り

hoteru no KEY wo uketori

君はドレスを身に纏う

kimi wa doresu wo mi ni matou

そしてドアを開けた

soshite doa wo aketa




滑り込む指先 いつの間にか抱きしめる

suberikomu yubisaki itsunomani ka dakishimeru

窓からのネオン 照らされてく体

mado kara no neon terasareteku karada

今日はそれに溺れてみる

kyo wa sore ni oborete miru



痛みも迷いもほらすぐ傍に 
itami mo mayoi mo horasugu soba ni
誤魔化すばかりじゃつまらないから
gomakasu bakari ja tsumaranai kara
見えない温もりをあげる 
mienai nukumori wo ageru

DA KARA 君は 帰れない

DA KARA kimi wa kaerenai



甘えも嫉妬も喜びに変えて

amae mo shitto mo yorokobi ni kaete

求めるばかりじゃつまらないから

motomeru bakari ja tsumaranai kara

尽きない優しさをあげる
tsukinai yasashiisa wo ageru


甘えも嫉妬も喜びに変えて
amae mo shitto mo yorokobi ni kaete
求めるばかりじゃつまらないから
motomeru bakari ja tsumaranai kara
尽きない優しさをあげる
tsukinai yasashiisa wo ageru
DA KARA 君を 帰さない
DA KARA kimi wo kaesanai
External links
Edit