This song article is lacking a proper background. You can help by adding one! The relevant section in the Song Article Guideline is a good starting point, and this blog post may also be helpful. We apologize for the inconvenience this may cause in the meantime.

Song pages lacking proper backgrounds are automatically sorted into this category.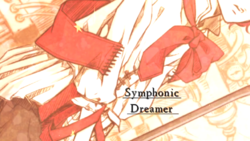 Song title
"Symphonic Dreamer"
Uploaded May 28, 2016, with 610+ (NND) / 490+ (YT) views
Singer(s)
Fukase
Producer(s)
Anna (lyrics, movie, music video)
Sachiko Orihara (illust)
Links
Niconico Broadcast • YouTube Broadcast

Background
Edit
"
I won't give up on my dreams till the end,

so never give up on your dream.

"
 

— Author's comment
"Symphonic Dreamer" is an original song by Anna featuring Fukase.
Succeeding versions
Edit
Miku's Cover

| | |
| --- | --- |
| Featuring | Hatsune Miku |
| Author(s) | Anna (music, lyrics) |
| Category | VOCALOID cover |
Japanese (日本語歌詞)
Romaji (ローマ字)
掲げては立ち止まり
kakagete wa tachidomari
言い訳を並べていた
iiwake o narabete ita


未来変わるのか、なんて
mirai kawaru no ka, nante
今はまだ わからないよ
ima wa mada wakaranai yo


だけど
dakedo
消せなかった あふれる想いを
kesenakatta afureru omoi o
今はみんなに 届けられるかな
ima wa minna ni todokerareru kana


描き続けるよ 今いまイマ
egaki tsuzukeru yo ima ima ima
響き渡るように
hibiki wataru you ni
手をのばした  今いまイマ
te o nobashita ima ima ima
抱きしめるように
dakishimeru you ni


願うことやめないで 夢みて
negau koto yamenaide yume mite
求め続けていく future
motome tsuzukete iku future


積み上げて 壊れて
tsumiagete kowarete
ないものを数えていた
nai mono o kazoete ita


何ができるのか、なんて
nani ga dekiru no ka, nante
答えは見つからないよ
kotae wa mitsukaranai yo


だけど
dakedo
胸に眠る 大切な歌を
mune ni nemuru taisetsu na uta o
今は誰かに 聴いてほしいから
ima wa dareka ni kiite hoshii kara


芽吹きはじめるよ 今いまイマ
mebuki hajimeru yo ima ima ima
明日へ続くように
asu e tsuzuku you ni
チャンスがほら 今いまイマ
chansu ga hora ima ima ima
ふりそそぐように
furisosogu you ni


願うことやめないで 夢みて
negau koto yamenaide yume mite
さがし続けていく new world
sagashi tsuzukete iku new world


消せなかった あふれる想いを
kesenakatta afureru omoi o
今はみんなに 届けられるかな
ima wa minna ni todokerareru kana


描きつづけるよ 今いまイマ
egaki tsuzukeru yo ima ima ima
響き渡るように
hibiki wataru you ni
手をのばした  今いまイマ
te o nobashita ima ima ima
抱きしめるように
dakishimeru you ni


願うことやめないで 夢みて
negau koto yamenaide yume mite
求め続けていく future
motome tsuzukete iku future


さがし続けていく new world
sagashi tsuzukete iku new world
External links
Edit
| | |
| --- | --- |
| | Lyrics |