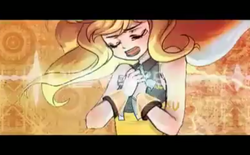 Song title
"THIS IS MY LAST VOICE"
Uploaded January 24, 2013 (CreCrew)
Singer(s)
SeeU
Producer(s)
This is Parallel World (music, lyrics)
Porifra (illust)
Kimchima (movie)
Links
YouTube Broadcast (reprint)
CreCrew Broadcast (deleted)
Background
Edit
"THIS IS MY LAST VOICE" is an original SeeU song, telling the story of SeeU and how her voice is slowly fading into obscurity. She hopes and prays that someone will always remember her, and she will never be forgotten, even as she disappears.
This song was originally published on CreCrew, which has since been shut down.
Korean (한국어 가사)
Romaja (로마자)
모니터 밖 세계는
moniteo bak segyeneun
어느샌가 멈춰버렸어
eoneusaenga meomchwobeoryeosseo
이 세계는 소실돼
i segyeneun sosildoe
이제 네게 노래할 수 없어
ije nege noraehal su eopseo


(프로그램을 시작합니다)
(peurogeuraemeul sijakhamnida)


내 마지막 목소리를 담아
nae majimak moksorireul dama
너에게 부를 게
neo-ege bureul ge
널 향한 마음들 모두
neol hyanghan ma-eumdeul modu
이 메시지를 너에게 남겨
i mesejireul neo-ege namgyeo
사라져 가는 내 마음들을 모두
sarajyeo ganeun nae ma-eumdeureul modu
여기 둘 게
yeogi dul ge


네게 닿은 순간
nege da-eun sungan
해피 엔딩 속에
haepi ending soge
우리들은 웃고 있을 거라
urideureun utgo isseul geora
생각했는데
saenggakhaenneunde
어느샌가 내게
eoneusaenga naege
남은 마음들이
nameun ma-eumdeuri
모두 소실되어버려
modu sosildoeeobeoryeo
사라지는 목소리
sarajineun moksori


내 노래를 들어 줘서 고마워요
nae noraereul deureo jweo gomawoyo
이제 마지막 모두 Good Bye...
ije majimak modu Good Bye..


(프로그램을 시작합니다
(peurogeuraemeul sijakhamnida
텍스트를 입력해 주세요)
tekseuteureul imnyeokhae juseyo)


내 마지막 목소리를 담아
nae majimak moksorireul dama
너에게 부를 게
neo-ege bureul ge
널 향한 마음들 모두
neol hyanghan ma-eumdeul modu
이 메시지를 너에게 남겨
i mesejireul neo-ege namgyeo
사라져 가는 내 마음들을 모두
sarajyeo ganeun nae ma-eumdeureul modu
여기 둘 게
yeogi dul ge
External links
Edit
| | |
| --- | --- |
| | Lyrics |
| | |
| --- | --- |
| | Articles |