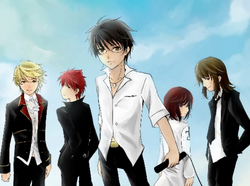 Song title
"Take off!"
Uploaded October 11, 2011, with 1,700+ views
Singer(s)
Hiyama Kiyoteru
Producer(s)
Imesora-P (music)
Danzig (lyrics)
Tenryuu Kou (illustration)
Links
Niconico Broadcast
Background
Edit
Imesora-P's 16th original song. It is their first work featuring Kiyoteru.
Five months after uploading this song, Imesora-P uploaded a new version with an updated instrumental.
Succeeding versions
Edit
Updated Instrumental ver

Featuring
Hiyama Kiyoteru
Author(s)
Imesora-P
Category

Description

An updated version of the song with art drawn by luco and a video made by Toriccho. It has surpassed the original upload in views.
Japanese (日本語歌詞)
Romaji (ローマ字)
鳴り響くサイン 瞬間湧き上がる
narihibiku sain shunkan waki agaru
僕の鼓動が 音より早く駆け上がる
boku no kodou ga oto yori hayaku kake agaru
Fly up to the sky 翼に熱い風を受けて
Fly up to the sky tsubasa ni atsui kaze o ukete


誰よりも速く 命の尽きるまで
dare yori mo hayaku inochi no tsukiru made
信じたものを 追いかけ掴め
shinjita mono o oikake tsukame
振り向くな Don't turn around back
furimuku na Don't turn around back
Go for it together!
Go for it together!


朽ちてく今を悔やんで
kuchite ku ima o kuyande
嘆いても答えなんかないさ
nageite mo kotae nanka nai sa
大空だけが僕達の生きる証
oozora dake ga bokutachi no ikiru akashi


光をめざして
hikari o mezashite


Go! Take off! 囚われた心
Go! Take off! toraware ta kokoro
I desire... 解放(ときはな)して叫べ
I desire... toki hana shite sakebe
fly with you 煌くあの虹の
fly with you kirameku ano niji no
Look for dreams! 向こうへそう届くまで
Look for dreams! mukou e sou todoku made


どうすればいいと 涙を噛みしめた
dousureba ii to namida o kamishime ta
君の言葉が 風より強く込み上げる
kimi no kotoba ga kaze yori tsuyoku komi ageru
blowing my heart
blowing my heart
祈りも枯れ果てた瞳で
inori mo kare hateta hitomi de


ありふれた言葉 それでもいいじゃない
arifureta kotoba sore demo ii janai
信じた夢を 取り返すため
shinjita yume o torikaesu tame
手を伸ばせ Go to a distance
te o nobase Go to a distance
Hold a dream in your hand!
Hold a dream in your hand!


錆つくだけの生き方
sabitsuku dake no iki kata
選んでも虚しすぎるだけさ
erande mo munashi sugiru dake sa
傷つく事に怯えずに生きてごらん
kizutsuku koto ni obiezu ni ikite goran


勇気を燃やして
yuuki o moyashi te


Go! Take off! 輝いた未来は
Go! Take off! kagayaita asu wa
I desire... すぐ近くにあるさ
I desire... sugu chikaku ni aru sa
fly with you 煌くあの虹と
fly with you kirameku ano niji to
Look for dreams! 僕らをそう繋ぐため
Look for dreams! bokura o sou tsunagu tame


黄昏に染められた 彼方に
tasogare ni some rareta kanata ni
まだ見ぬ感動がきっと待ってるさ
mada minu kandou ga kitto matteru sa


Break of dawn 生まれたての朝日に
Break of dawn umareta te no asahi ni
move me again! 僕らの夢を溶かして
move me again! bokura no yume o tokashi te


Go! Take off! 囚われた心
Go! Take off! toraware ta kokoro
I desire... 解放(ときはな)して叫べ
I desire... toki hana shite sakebe
fly with you 煌くあの虹の
fly with you kirameku ano niji no
Look for dreams! 向こうへそう届くまで
Look for dreams! mukou e sou todoku made


Go! Take off! 輝いた未来は
Go! Take off! kagayaita asu wa
I desire... すぐ近くにあるさ
I desire... sugu chikaku ni aru sa
fly with you 煌くあの虹と
fly with you kirameku ano niji to
Look for dreams! 僕らをそう繋ぐため
Look for dreams! bokura o sou tsunagu tame
External links
Edit
| | |
| --- | --- |
| | Official |
| | |
| --- | --- |
| | Articles |