This song article is lacking a proper background. You can help by adding one! The relevant section in the Song Article Guideline is a good starting point, and this blog post may also be helpful. We apologize for the inconvenience this may cause in the meantime.

Song pages lacking proper backgrounds are automatically sorted into this category.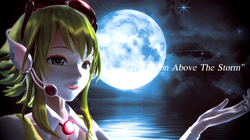 Song title
"The Moon Above the Storm"
Uploaded September 19, 2014, with 2,700 views
Singer(s)
GUMI
Producer(s)
coralmines (music, lyrics)
yaz (guitar)
Sely (MMD model)
Links
YouTube Broadcast
Background
Edit
| | | |
| --- | --- | --- |
| " | New Vocaloid song featuring GUMI on vocals. Enjoy | " |
"The Moon Above the Storm" is an original song by coralmines and yez featuring GUMI.
Beneath the gallows of the sea
Between the ocean binding me
The bodies sinking low, oh no
I had to get back on my feet
Get me off this tragedy
But I'm still sinking, no

And I said
Young girl, it's too late
You're missing a good friend

I've been thinking of...

But I said
My heart is too brave
Precious and lucent

And all at once, I found myself right up
Just staring at the moon

It's such a miracle
You came to me
So gracefully amid the storm
I couldn't believe

Right through
I see reflections of your moonlight shadow
Glittering on me below

Ooh, anew
The music came to me, I hear it now
A serenade with crystal sound

That I only feel
With you
I am invincible, a diamond
I'm destined to be here forever

The story of the young boy
Who gave it all just to woo me
It's something new to me, it seems

Fire escape,
The only door but its simple, hey
Before it slips away

But he said
Young girl
It's too late
I'm losing, I'm withering
I'd rather you than me

And he said
My heart is always
Wishing for you to be safe

Until now you're a distant star
But now, I'm all over the moon

It's such a miracle
We came to be
So near-at-hand amid the storm
You're all that I need, it's true

In midst the endless cold
We feel the warmth
Heads underwater, breathing fire

Ooh, anew
The music came to me, I hear it now
A serenade with crystal sound

That I only feel
With you
I am invincible, a diamond
I'm destined to be here forever

You're right here with me
Adieu we will soon undid
Can you see me now?
Please tell me

Look at me endlessly
Feel like its on repeat
You're shining through the night,
So beautiful
External links
Edit
| | |
| --- | --- |
| | Articles |
| | |
| --- | --- |
| | Lyrics |