Ad blocker interference detected!
Wikia is a free-to-use site that makes money from advertising. We have a modified experience for viewers using ad blockers

Wikia is not accessible if you've made further modifications. Remove the custom ad blocker rule(s) and the page will load as expected.
The following song article is still a work in progress. For information on how to help, see the song article guideline. We apologize for the inconvenience this may cause in the meantime.

What is being worked on?

Lyrics and Background.

Work-in-progress song pages are automatically sorted into this category.
©

Notice:

This song is no longer available publicly; the original upload has been ceased by the Producer. Take caution with reprints as the Producer can still claim copyright infringement.

The Vocaloid Wiki does not have a policy on lyrical contents or themes no longer being available from its original source, however, it attempts to follow the Wikia TOU, the Author must contact Administrators or Wikia Staff for such concerns.
For further discussion see Thread:107893. Ceased songs are automatically sorted into this category.

©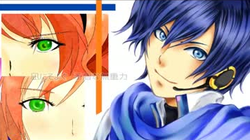 Song title
"The Real Intention"
Uploaded July 28, 2014, with 800+ views
Singer(s)
KAITO, anon, kanon
Producer(s)
deskToP-icon@JKP (music, lyrics)
Links
Niconico Broadcast (deleted)

Background
Edit
"The Real Intention" is an original song by deskToP-icon@JKP featuring KAITO, anon and kanon.
Japanese (日本語歌詞)
Romaji (ローマ字)
The Real Intention


それでいい と きみはうなずいた
sore de ii to kimi wa unazuita
それがいい と きみはいいきかせた
sore ga ii to kimi wa iikikase ta
迷い 纏い 的を外れてゆく
mayoi matoi mato o hazurete yuku
凪にそよぐ 矛盾な無重力
nagi ni soyogu mujun na mu juuryoku


あかもあおも 白黒どちらかでしかないの
a kamo aomo shiro kuro dochira ka de shika nai no


(The thick fog blotted out everything.)
(Why is it? How long? I want an answer.)


あの地平の向こうまでゆけたのなら
ano chihei no mukou made yuketa no nara
果てがあるのかをこの目で見れるのに
hate ga aru no ka o kono me de mireru no ni
止まる足は ほどけていた靴紐にとられるの
tomaru ashi wa hodoke te ita kutsu himo ni torareru no


(The Real Intention)
(The thick fog blotted out everything.)


ゆめのなかで きみはくびをふる
yume no naka de kimi waku biofuru
(The thick fog blotted out everything.)
(Why is it? How long? I want an answer.)
これはゆめだ きみはいいきかせた
kore wa yume da kimi wa iikikase ta
重い おもい 箍が外れる音
omoi omoi taga ga hazureru oto
?(風に思う)羽ばたきあがらせて
kaze ni omou habatakiagarase te


愛と哀を これ以上とらないでと願う
ai to aijou o kore ijou toranai de to negau


青い声はなみだの代わりに歌う
aoi koe hanami dano kawari ni utau
姿なき旋律が寄り添い叫ぶ
sugata naki senritsu ga yorisoisakebu
そしてきみは ほどけた靴紐 固く結びなおす
soshite kimi wa hodoke ta kutsu himo kataku musubinaosu


遠く近く 未だ知らぬそれをさがしだすの
touku chikaku ima da shiranu sore o sagashidasu no


見つけだしてみせると決めたから
mitsukedashi te miseru to kime ta kara


(The Real Intention.)


(-ay, and to・・・find.)
External links
Edit
| | |
| --- | --- |
| | Lyrics |