Ad blocker interference detected!
Wikia is a free-to-use site that makes money from advertising. We have a modified experience for viewers using ad blockers

Wikia is not accessible if you've made further modifications. Remove the custom ad blocker rule(s) and the page will load as expected.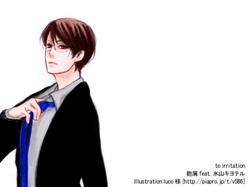 Song title
"to irritation"
Uploaded November 27, 2010, with 14,000+ views
Singer(s)
Hiyama Kiyoteru
Producer(s)
Kanna Kuzu (music, lyrics)

luco (illustration)

Links
Niconico Broadcast
Background
Edit
Kanna Kuzu's fourth original song, and first featuring Kiyoteru. It is one of the producer's more popular works.
On December 9th, 2012, Kanna Kuzu uploaded a remastered version of the song to Piapro in celebration of 10,000 views.
Japanese (日本語歌詞)
Romaji (ローマ字)
空虚の心で 雑踏を見てた
kuukyo no kokoro de zattou o miteta
眩しい何か 抱えた人の群れ
mabushii nanika kakaeta hito no mure
夢追い人の 後ろ姿を
yume oibito no ushiro sugata o
腐り濁ったその目で ただ睨んだ
kusari nigotta sono me de tada niranda


時は無情に 流れ過ぎ行く
toki wa mujou ni nagare sugi iku
縋る物も無く 一人目を閉じた
sugaru mono mo naku hitori me o tojita
闇に浮かべた 自分の姿
yami ni ukabeta jibun no sugata
理想さえ歪み 他者を憎んだ
risou sae yugami hito o nikunda


現状に苛立つなら 変わる事迷わないで
ima ni iradatsunara kawaru koto mayowanaide
いつも目を背けて 傷を恐れ 逃げる明日に何が在る?
itsumo me o somukete kizu o osore nigeru asu ni nani ga aru?
そのドア蹴り上げて 切り裂いた視界には
sono doa keri agete kirisaita shikai ni wa
霞んでいた自分 晴らす様な 広がる空見えている筈
kasunde ita jibun harasu youna hirogaru sora miete iru hazu


失う物は無い その度に掴めばいい
ushinau mono wa nai sono tabi ni tsukameba ii
何も出来ずに居た 過去を破り 目の前に今手伸ばせ
nani mo dekizu ni ita kako o yaburi me no mae ni ima te nobase
前を向いた君を 嘲笑う者なんて居ないよ
mae o muita kimi o warau mono nante inai yo
少しずつでもいい 一歩でもいい その部屋抜け出して
sukoshi zutsu demo ii ippo demo ii sono heya nukedashite


現状に苛立つなら 変わる事迷わないで
ima ni iradatsunara kawaru koto mayowanaide
いつも目を背けて 傷を恐れ 逃げる明日に何が在る?
itsumo me o somukete kizu o osore nigeru asu ni nani ga aru?
そのドア蹴り上げて 切り裂いた視界には
sono doa keri agete kirisaita shikai ni wa
霞んでいた自分 晴らす様な 広がる空見えている筈
kasunde ita jibun harasu youna hirogaru sora miete iru hazu
External links
Edit
| | |
| --- | --- |
| | Articles |
| | |
| --- | --- |
| | Lyrics |