Ad blocker interference detected!
Wikia is a free-to-use site that makes money from advertising. We have a modified experience for viewers using ad blockers

Wikia is not accessible if you've made further modifications. Remove the custom ad blocker rule(s) and the page will load as expected.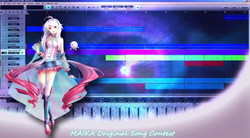 Song title
"Trading Sanity for Fantasy"
Uploaded May 9, 2014, with 1,599 views
Singer(s)
MAIKA
Producer(s)
Venova
Links
YouTube Broadcast
Background
Edit
| | | |
| --- | --- | --- |
| " | What do you think of the lyrics? It was a hard topic to come up with decent ones for, it's sortof a song about love, obsession, devotion, and some other feelings, about a person I'll never know. I hope I can come up with better ones for future songs, but this is okay for now I guess. | " |
Trading Sanity for Fantasy is an original song by Venova featuring MAIKA. The song was entered in the MAIKA Original Song Contest coming in 34th place.
Sitting alone
In monitor glow
I look into your eyes
 
Gazing at me
Through this flat screen
I lose track of time
 
I was lonely
Until I found you
But now I don't care
I don't need anyone
It's you I love
I give myself to you forever
 
Just pixels on my screen
I know it's just a dream
 
But thats okay with me
I want you
I need you
I'm going insane for you
 
Trading sanity, for a fantasy
Losing touch with my, reality
 
Limitless beauty, captivating me
I belong to you, eternally
 
Daydreams haunt me
Wonderfully
I fantasize all day
 
Tearfully
I think of all the
Things I want to say
 
I'll never touch you
I'll never hold you
And for that I despair
I would give anything
If I could bring
My lips to yours
My darling Ella
 
Just pixels on my screen
I see you in my dreams
And I believe in you
My goddess
My angel
I give all my life to you
External links
Edit
| | |
| --- | --- |
| | Articles |