True Education ~真の教育~ (True Education ~Shin no Kyouiku~)
Comments

0
Share
Ad blocker interference detected!
Wikia is a free-to-use site that makes money from advertising. We have a modified experience for viewers using ad blockers

Wikia is not accessible if you've made further modifications. Remove the custom ad blocker rule(s) and the page will load as expected.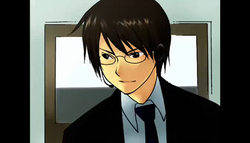 Song title
"True Education ~真の教育~"
Romaji: True Education ~Shin no Kyouiku~
English: True Education ~True Education~
Uploaded December 09, 2009, with 22,000+ views
Singer(s)
Hiyama Kiyoteru
Producer(s)
Setsuna-P (music, lyrics, guitar)
Mouri (illustration)
Links
Niconico Broadcast
Background
Edit
"
Bring it on, P.T.A.!
"
 

— Author's comment
Setsuna-P's first work with Kiyoteru. Kiyoteru is a school teacher who sings about the passion he has for his students and he's willing to put aside his other dreams he has for life in order to help his students reach their dreams.
Japanese (日本語歌詞)
Romaji (ローマ字)
さあ 授業を始めよう
saa jugyou wo hajimeyou
皆の者
mina no mono
起立、礼、着席
kiritsu, rei, chakuseki
ノート開いて 筆を執れ
nooto hiraite fude wo tore
残さずに 書き写すように
nokosazu ni kaki utsusu you ni


先人達が 残した遺産を
senjin tachi ga nokoshita isan wo
胸に 刻み付けるのさ
mune ni kizami tsukeru no sa
必ず 役立つ日が来る
kanarazu yakudatsu hi ga kuru
私が そう 保証する!
watashi ga sou hoshou suru!


世界を 生き抜くための術を
sekai wo ikinuku tame no sube wo
今授けよう
ima sazukeyou
私の 大事な教え子よ
watashi no daiji na oshiego yo
明日へ 羽ばたけ
asu e habatake


もしも 困った事があれば
moshimo komatta koto ga areba
相談しなさい
soudan shinasai
君らは 私が守るから
kimira wa watashi ga mamoru kara
イジメは許さない!
ijime wa yurusanai!
さあ、私に 付いて来い!
saa, watashi ni tsuite koi!


そう、私も 夢がある
sou, watashi mo yume ga aru
けれど今は 教鞭を振おう
keredo ima wa kyouben wo furuou


未来のため 託された叡智を
mirai no tame takusareta eichi wo
いつか 修得するんだ
itsuka shuutoku surun da
この世に はびこる不条理
kono yo ni habikoru fujouri
社会に 立ち向かうために
shakai ni tachimukau tame ni


君らが 思い描く夢を
kimira ga omoi egaku yume wo
叶えてあげたい
kanaete agetai
それまで 共に歩んでいこう
sore made tomoni ayunde yukou
晴れも 雨の日も
hare mo ame no hi mo


私は 誇りを持っている
watashi wa hokori wo motte iru
自分の職業に
jibun no shigoto ni
だから モンスターの心の
dakara monsutaa no haato no
親も 恐れない
oya mo osorenai
かかってこいよ、 P・T・A!
kakatte koi yo, P.T.A. !


安月給でも 不満は言わない
yasu gekkyuu demo fuman wa iwanai
何故なら 信念があるから
naze nara shinnen ga aru kara
崩壊した 教育現場に
houkai shita kyouiku genba ni
私が 終止符を打つ
watashi ga piriodo wo utsu


この世は 数式では解けない
kono yo wa suushiki de wa tokenai
事象ばかりだから
jishou bakari dakara
私と 共に導き出そう
watashi to tomoni michibiki dasou
君の 生き甲斐を
kimi no ikikai wo


例え 国が教育現場を
tatoe kuni ga kyouiku genba wo
見捨てたとしても
misuteta to shite mo
私は 子供達の未来を守る
watashi wa kodomo tachi no mirai wo mamoru
誓おう
chikaou
いい加減にしろ、 文○省!
iikagen ni shiro, mon***shou!


世界を 生き抜くための術を
sekai wo ikinuku tame no sube wo
今授けよう
ima sazukeyou
私の 大事な教え子よ
watashi no daiji na oshiego yo
明日へ 羽ばたけ
asu e habatake
さあ、私に 付いて来い!
saa, watashi ni tsuite koi!
みせてやる、 True Education<真の教育>!
misete yaru, True Education<Shin no Kyouiku!>
External links
Edit
| | |
| --- | --- |
| | Articles |
| | |
| --- | --- |
| | Lyrics |