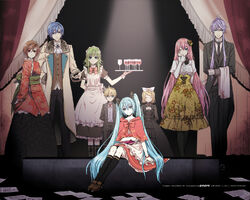 Song title
"Twilight ∞ nighT"
Uploaded February 14, 2013 (NND) and January 20, 2015 (YT), with 1,500,000+ (NND) / 240,000+ (YT) views
Singer(s)
Hatsune Miku, Kagamine Rin, Kagamine Len, Megurine Luka, KAITO, MEIKO, GUMI and Camui Gackpo
Producer(s)
Hitoshizuku-P (music, lyrics)
Yama△ (mix)
Suzunosuke (illustration)
TSO, VAVA (video)
Links
Niconico Broadcast • YouTube Broadcast (official)

Background
Edit
The sequel to Crazy ∞ Night. It's told from third person, almost like from an audience's point of view or the Mysterious Shadow's point of view, the one who can witness every scene as it's played out, from the Villager finding the coffins to the mansion's inhabitants' worrying about the missing page.
As the song opens, cardboard cutouts of the cast are seen welcoming the Village Girl into the mansion, like in Bad ∞ End ∞ Night. Everyone parties, but the lyrics this time around seem to focus on keeping all the events of the feast exactly like the script. In the coffin room, The Village Girl is then shown to be the one watching the cardboard cutouts as they act out a previous play, most likely Bad ∞ End ∞ Night. After watching, the Villager then remembers previous plays, and is then shown to be back in her guest room.
The rest of the cast have found that both the next page in the script, Crazy ∞ nighT and the Villager were missing. The time of the play advances, but they can't continue properly if they don't have that page. They suspect of everybody, making conjectures of why would someone steal it. Meanwhile, the Village Girl has found the coffins. A sound came from inside of one of them, and when she opened it using the clock's hands finds the next PagE. At the same time, the mansion's inhabitants find the Villager's letter and decide to open it. Inside it was a blank page, that matched perfectly with the size of the script: the next PagE!
As soon as they put the page back in place, it seems time is moving again, and the play is finally proceeding. But it actually was not: the letter was dyed bad. After all, a blank page will get no applause... The play has run out of time now, and the Mysterious Shadow says "Till another night!".
Bad enD
This song is featured in the EXIT TUNES compilation album Vocalosensation, and is the third song in the Night ∞ Series. It has reached the Hall of Fame.
Main article: Night ∞ Series
Succeeding versions
Edit
Making of the video 「Twilight ∞ nighT 」

Author(s)
TSO
Category
Other

Description

TSO and VAVA explain how they made Twilight ∞ nighT's video, using several tools.
Japanese (日本語歌詞)
Romaji (ローマ字)
どうしたら家に帰れるのかな?
doushitara kani kaereru no ka na?
拍手が止むまで終わらない
hakushu ga yamu made owaranai


不気味な森に 娘がひとり
bukimina mori ni musume ga hitori
迷い込んだようです
mayoikonda youdesu
「誰か・・・!誰かいませんか~?」
"dare ka! darekaimasenka~?"


「こんな夜更けにお一人ですか?」
"kon'na yofuke ni ohitoridesu ka?"
「さあさあ、どうぞ入ってお茶でも召し上がれ♪」
"saa saa, douzo haitte ocha demo meshiagare ♪"


「Welcome!! Let's sinG!! and, Have a Crazy ♡ Join uS!!」


「外は暗くて」
"soto wa kurakute"
「危険すぎるわ~」
"kiken sugiru wa~"
「そうだね・・・朝が来るまで」
"sou da ne... asagakurumade"
「「「「「「「歌って踊って歓迎しましょう!」」」」」」」
"""""""utatte odotte kangei shimashou!"""""""


「それではさっそく・・・」
"soredewa sassoku..."
「準備を致しましょう♪」
"junbi o itashimashou ♪"
「OK!! 今夜限リハ 、皆無礼講」
"OK!! kon'yagiri riha, kai bureikou"


舞台セットから 衣装・メイクまで
butai setto kara ishou meiku made
寸分違わず「台本どおり」に!
sunbuntagawazu "daihon-doori" ni!
ワインをついで乾杯したら
wain o tsuide kanpai shitara
始めよう!
hajimeyou!


今宵 瞬きひとつ、ため息ひとつ、足音ひとつ、間違えられない!
koyoi mabataki hitotsu, tameiki hitotsu, ashioto hitotsu, machigae rarenai!
完璧すぎて怪しいくらいに 狂った舞台を届けましょう そして・・・
kanpeki sugite ayashii kurai ni kurutta butai o todokemashou soshite...
「素晴らしい!」 「・・・もっと」 「たまらなぁい!」 「・・・もっと!」 「シビれるぅ!」 「もっと称えて頂戴!!」
"subarashii!" "...motto" "tamara naai!" "...motto!" "shibireruu!" "motto tataete choudai!!"
五臓六腑まで響いて止まない 拍手の準備はよろしいか?
"gozouroppu made hibiite yamanai hakushu no junbi wa yoroshii ka?"


宴が終わり夜が明けると
utage ga owari yogaakeru to
「大変♪いつの間にやら・・・」
"taihen ♪ itsunomaniyara..."
「アノ娘ガ・・・」   「何処ニモ・・・」
"ano musume ga..." "doko nimo..."
「「「「「「「いない・・・!いない?!いないいない!」」」」」」」
"""""""inai...! inai?! inai inai!"""""""


「ねえ、耳を澄まして?」
"nee, mimi o sumashite?"
「ドンドンと・・・不思議な音・・・?」
"dondon to fushigina oto...?"
「一体、どこから聴こえてくるのでしょうか?」
"ittai, doko kara kikoete kuru nodeshou ka?"


「Wake uP!! Let's thinK!! and, To the nineS ♡ Join uS!!」


「あら!なんてことでしょう♪」
"ara! nante kotodeshou ♪"
「次の PagE が・・・」   「ナー イ!」
"tsugi no PagE ga..." "naai!"
「誰が盗んだのかしら~?」
"dare ga nusunda no kashira~?"
「困ッタ!?困ッタ!! AhAhAhAhAhAhAhA!!!!」
"koma tta!? koma tta!! AhAhAhAhAhAhAhA!!!!"


「台本がなければ・・・」   「先に進めないわ!」
"daihon ga nakereba..." "sakini susumenai wa!"
「OK!! 皆、皆デ、 PagE 、探シマショウ!!」
"OK! ! kai, mina de, PagE, sagu shimashou!!"


でも、一体誰が・・・?何の為に・・・?
demo, ittai dare ga...? nani no tame ni...?
未来の PagE を盗んだのでしょう?
"mirai no PagE o nusunda nodeshou?"
誰もが皆・・・誰もが皆!
"daremoga kai daremoga mina!"
疑わしい!!
"utagawashii!!"


今宵 時間は進む 舞台は進む 【時計の針】を置き去りにして
koyoi jikan wa susumu butai wa susumu 【tokei no hari】 o okizari ni shite
刻まれぬまま 屠(ほふ)られ眠った 本当の【アナタ】は何処にいる・・・? そして・・・
kizama renu mama hofu (hofu) rare nemutta hontou no 【anata】 wa doko ni iru...? soshite...
つ・ぎの PagE には  True EnD には きっと、【何か】が足りないのでしょう・・・
tsu・gino PagE ni wa True EnD ni wa kitto, 【nanika】 ga tarinai nodeshou...
考えたって見つからないなら 黙って歯車廻しましょう
kangae tatte mitsukaranainara damatte haguruma mawashimashou


「盗まれた紙は・・・」
"nusuma reta kami wa..."
「鋭く尖(とが)る【短針】は・・・」
"surudoku surudo (toga)ru 【tanshin】 wa..."
「何処にあるのでしょう?」
"doko ni aru nodeshou?"
「一体、【何】を刻めばいい?」
"ittai, 【nan】 o kizameba ī?"


「Hurry hurrY!!」
「秘密の地下へ」
"himitsu no chika e"
「あっちへ?こっちへ?」
"atchi e? kotchi e?"
「音のする方へ・・・」
"oto no suru kata e..."
「ネエ、怪シイ手紙ガ」
"nee, kai shī tegami ga"
「棺の中に・・・」
"hitsugi no naka ni"
「落チテイ タノデス」
"ochi chitei tanodesu"


「それはあの娘が持ってた・・・!」
"sore wa anomusume ga motteta...!"
「それぞれの【針】で・・・?」
"sorezore no 【hari】 de...?"
「手紙の中身は・・・?」
"tegami no nakami wa...?"
「正しく刻まないと・・・?」
"tadashiku kizamanai to...?"
「コッソリ 開ケルト・・・」
"kossori kai keruto..."
「答えは・・・この中に・・・?」
"kotaeha... kono naka ni...?"
「「「「「「「ぴったり SizE の白い紙!」」」」」」」
"""""""pittari SizE no shiroi kami!"""""""


「・・・みーっつっけた」
"...mittsukketa"


時間を刻み 舞台を進め 【狂った時】を、直して戻そう
jikan o kizami butai o susume 【kurutta toki】 o, naoshite modosou
完璧すぎて怪しいくらいに 狂った EnD を届けましょう!! そして・・・
kanpeki sugite ayashī kurai ni kurutta EnD o todokemashou! ! soshite...
「素晴らしい!」 もっと 「たまらなぁい!」 もっと! 「シビれるぅ!」 夜を、叶えて頂戴!
"subarashii!" motto "tamara naai!" motto! "shibireruu!" yoru o, kanaete choudai!
待ち焦がれてた EnD は目前! 心の準備はよろしいか?
machikogare teta EnD wa mokuzen! kokoronojunbi wa yoroshii ka?


「いいえ!ちょっと待って・・・!ねえ、ちゃんとよく見て? 【正しい時】は進んでいません!
"iie! chottomatte...! nee, chanto yoku mite? 【tadashii toki】 wa susunde imasen!
次のページは見つかっていない・・・ 何故なら、手紙は EndinG」
tsugi no peeji wa mitsukatte inai nazenara, tegami wa EndinG"
やがて 時間は進む 舞台は進む EndroLL まで一足(いっそく)飛びに
yagate jikan wa susumu butai wa susumu EndroLL made hitoashi (isso ku) tobi ni
キャスト、舞台も全てを置き去り 白紙は BaD に染まるでしょう だって・・・
kyasuto, butai mo subete o okizari hakushi wa BaD ni somarudeshou datte...
「白紙」じゃ、拍手は貰えない・・・ ならば・・・! 気付いたところで時・間・切・れ・で
"hakushi" ja, hakushu wa moraenai... naraba...! kizuita tokoro de tokikan setsu re de
これにておしまい♡  また今夜!
kore nite oshimai ♡ mata kon'ya!
Derivatives
Edit
✽X'mas Edition✽

Featuring
Several Utaites
Author(s)
Bass: mao
Encode: mallory
Illust: Omu
Category
Human cover
1 Female Person 8 Roles in Twilight ∞ nighT

Featuring
Ikasan
Author(s)
Mix: zazi
Encode: kenji
Category
Human cover
Hiiragi Yuuka's Cover

Featuring
Hiiragi Yuuka
Author(s)
Mix: kain
Encode: 7@-san
Category
Human cover
Pupuppi's Dance Cover

Featuring
Apollon, Chelsea, Meronpa, Caramel
Author(s)
Filming, choreography: Kent (Ars Magna)
Edit: Tyler
Category
Dance cover
Piano ver.

Featuring
Furatto@♭
Author(s)
Furatto@♭
Mastering: Soaran
Category
Arrangement
External links
Edit
| | |
| --- | --- |
| | Articles |
| | |
| --- | --- |
| | Lyrics |
| | |
| --- | --- |
| | Downloads |