Ad blocker interference detected!
Wikia is a free-to-use site that makes money from advertising. We have a modified experience for viewers using ad blockers

Wikia is not accessible if you've made further modifications. Remove the custom ad blocker rule(s) and the page will load as expected.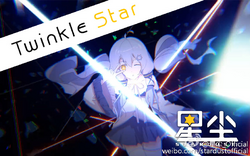 Song title
Twinkle Star
Uploaded August 12, 2016, with 60,000+ (BB) & 28,000+ (YT) views
Singer(s)
Stardust
Producer(s)
Xiaoye Dao (compose, arrange, lyrics)
Cocytopia (illustrator)
Music no SEED (video editor)
Links
YouTube Broadcast
bilibili Broadcast
Background
Edit
"Twinkle Star" is an original Stardust song that is featured in her debut album, Star Wish.
The song describes a shower of shooting stars that make wishes come true and transform the world for the better, and during the bridge of the song Stardust encourages everyone to try their best even if it seems like no one acknowledges your efforts.
Chinese (中文歌词)
Pinyin (拼音)
夜晚里最安静的时间
yewan li zui anjing de shijian
想要漂浮在云层之间
xiang yao piaofu zai yunceng zhi jian
望望远方的地平线
wang wang yuanfang de dipingxian
灯光在眼中微微刺眼
dengguang zai yanzhong weiwei ciyan


接受到许多的声音
jieshou dao xuduo de shengyin
一点点跳动在指尖
yi diandian tiaodong zai zhi jian
被光芒遮挡的视线
bei guangmang zhedang de shixian
色彩全都变
secai quandou bian


遥望星空的方向
yaowang xingkong de fangxiang
愿望能否 将世界时间全部停住
yuanwang neng fou jiang shijie shijian quanbu ting zhu
最美的瞬间只要听见
zuimei de shunjian zhiyao tingjian
哦 跳动的音符
o tiaodong de yinfu
愿望实现 消失不见
yuanwang shixian xiaoshi bujian
不管怎样都要用笑脸
buguan zenyang dou yao yong xiaolian
Twinkle star
哦 握紧手
o wo jin shou
约定的地方 准备好了没有
yueding de difang zhunbei haole meiyou


每当感到有些疲倦
mei dang gandao youxie pijuan
无论会如何不想听见
wulun hui ruhe buxiang tingjian
一次次的循环重复
yici ci de xunhuan chongfu
要坚持一下接近一点
yao jianchi yixia jiejin yidian


想传达的许多话语
xiang chuanda de xuduo huayu
一点点都连成线
yi diandian dou lian cheng xian
迎着光芒大口呼吸
yingzhe guangmang dakou huxi
色彩全都变
secai quandou bian


飞行方向云之间
feixing fangxiang yun zhi jian
哦 梦之中 所有的思绪都在心中
o meng zhi zhong suoyou de sixu dou zai xinzhong
最美的星尘相伴左右
zuimei de Xingchen xiangban zuoyou
哦 闪闪的星空
o shanshan de xingkong
愿望实现 消失不见
yuanwang shixian xiaoshi bujian
不管怎样都要用笑脸
buguan zenyang dou yao yong xiaolian
Twinkle star
哦 握紧手
o wo jin shou
飞行的方向
feixing de fangxiang
准备好了没有
zhunbei haole meiyou


就算世界没人看见
jiusuan shijie mei ren kanjian
你努力坚持的信念
ni nuli jianchi de xinnian
泪水汇聚成的宝物
leishui huiju cheng de baowu
你会看得见
ni hui kan de jian


星空的方向
xingkong de fangxiang
愿望能否
yuanwang neng fou
将世界时间全部停住
jiang shijie shijian quanbu ting zhu
最美的瞬间只要听见
zuimei de shunjian zhiyao tingjian
哦 跳动的音符
o tiaodong de yinfu
愿望实现 消失不见
yuanwang shixian xiaoshi bujian
不管怎样都要用笑脸
buguan zenyang dou yao yong xiaolian
Twinkle star
哦 握紧手
o wo jin shou
约定的地方
yueding de difang


云之间 哦梦之中
yun zhi jian o meng zhi zhong
所有的思绪都在心中
suoyou de sixu dou zai xinzhong
最美的星尘相伴左右
zuimei de Xingchen xiangban zuoyou
哦 闪闪的星空
o shanshan de xingkong
愿望实现 消失不见
yuanwang shixian xiaoshi bujian
不管怎样都要用笑脸
buguan zenyang dou yao yong xiaolian
Twinkle star
哦 握紧手
o wo jin shou
约定的地方
yueding de difang
准备好了没有
zhunbei haole meiyou