Ad blocker interference detected!
Wikia is a free-to-use site that makes money from advertising. We have a modified experience for viewers using ad blockers

Wikia is not accessible if you've made further modifications. Remove the custom ad blocker rule(s) and the page will load as expected.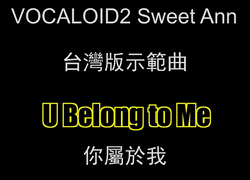 Song title
"U Belong to Me"
Uploaded June 30, 2011, with 10,300+ views
Singer(s)
Sweet ANN
Producer(s)
HYPAA (Music)
whitehorse team (Lyrics, Tuning)
Vofan (Illustration)
Links
YouTube Broadcast
Background
Edit
"U Belong to Me" is an original Sweet ANN song. It was written as a demonstration piece for the Taiwan release of her voicebank, produced by E-CAPSULE Co. Ltd.
You belong to me
You belong to me
can you see that I'm the one who understand you?
You belong to me
Baby can't you see?
Looking into my eyes and please tell me

Making my heart stop and go
Taking all my breath away
Once again
You make my world up and down
Everything, everything
I do them for you
Everywhere, everywhere
I will be there for you

You belong to me
You belong to me
Can you see that I'm the one who understand you?
You belong to me
Baby can't you see?
Looking into my eyes and please tell me

Making my heart stop and go
Taking all my breath away
Once again
You make my world up and down
Everything, everything
I do them for you
Everywhere, everywhere
I will be there for you