For some reason when I decided I had to come up with a new username other than the one made when I was 6, I came up with "Cherry", "cherry-chan" to be more specific. No particular reason really other than that the name struck me. Currently in high school, my first language is English though I've moved around a lot since I was little so I know snippets of other languages, French would be next in line as a 2nd language though not quite fluently.
Favourite Vocaloids
Edit
Ultimately Gumi is my absolute favourite, though I tend not to be majorly bias just because of it. I agree there're times she doesn't sound good in certain songs and if I'm basing things on appearance I'd choose another character, though I do love her hair style. Second in line would be Len and Rin Kagamine. I always quite liked their voices and character designs. They also have quite a few songs with in-depth meaning that I adore~ After them I'm not sure. There're many I like, though I don't usually like Engloids and I know few that aren't English, Japanese or Korean.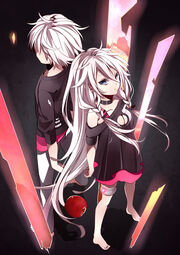 Loved Producers
Edit
Ahh, now this one's hard. I've recently fallen deeply in love with Kemu's work though. Otetsu and Yuzuhiko have done a few amazing songs in my mind, Deco*27's my favourite when it comes to (emotionally) moving songs though. Pinocchio's done his fair work of entertaining me and/or sending chills up my spine and then Nashimoto's done some pretty amazing/depressing/amusingly dark? songs. And I've been a fan of (Ieno Urade Manbouga) Shinderu's work for a long time now.. <3 It's hard to choose favourite producers though >.< Especially as I tend to like a variety from a variety so I don't neccessarily know producer's names. But how could I forget. The first time I ever used this site, MOTHY became my most respected producer and I can't wait until he releases Wrath by Gumi to complete his Seven Deadly Sins series.