Ad blocker interference detected!
Wikia is a free-to-use site that makes money from advertising. We have a modified experience for viewers using ad blockers

Wikia is not accessible if you've made further modifications. Remove the custom ad blocker rule(s) and the page will load as expected.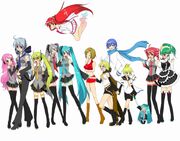 do you like role playing?
do you like vocaloids?
well if so...............
from fan made vocaloids to new and old and everyday known vocaloids YOU CAN BE IT ALL!
all you do is click one of the link below you go to the chat room just sing in your vocaloid and pick a color the only 2 not able to be used are (len kagamine/len magane) have fun Ow<
click here for rp room
http://us3.chatzy.com/58159394009620
【鏡音レンAppend】Final Card 【オリジナル】