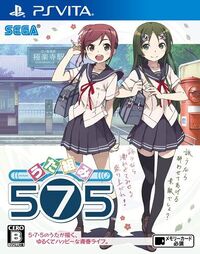 Uta Kumi 575 (うた組み575), translated as Song Builder 575, is a PS Vita game for Project 575 which was released on 23rd Jan, 2014.
The game was playable at Tokyo Game Show. Then on 17th Dec, 2013 a demo was released for the game but was restricted to being distributed to only 200,000 PS Vitas. It is said to feature 2 songs in it.[1]
The game can be purchased with a CD of the music featured for 7,350¥ or with limited edition merchandise for 9,500¥.
This game features the two girls Masaoka Azuki and Kobayashi Matcha.
The game is classified as a song building action game, and combines elements from rhythm game and a word puzzle game. The player at various points in the song can choose what lyrics to make the girls sing. The player is also required to tab "beats" on the screen in rhythm of the song.[2]
The songs for the game were worked on by multiple famous producers.
Featured producers
Edit
Jesus-P (Wonderful Opportunity), add9, azuma, cosMo, Deadball-P, Dixie Flatline, Fuwari-P, Hitoshizuku-P x やま△, Lamaze-P, natsu-P (SCL Project), Otetsu, Peperon-P, Pinocchio-P, Dios/Signal-P, Toraboruta-P, マイナスP, 亜沙, 鳩女 うたう文芸サークル
Song list
Edit
These are the songs featured in 575 Utakumi that the player is able to adjust the lyrics to in the game.
| № | Japanese, Romaji | English | Linkage | Producer |
| --- | --- | --- | --- | --- |
| 01 | 飛び出せ授業 | Tobidase Jugyō | NND/YT | Lamaze-P |
| 02 | Go!sHicHi!Go! | Go!sHicHi!Go! | NND/YT | cosMo |
| 03 | 六月の太陽 | Rokugatsu No Taiyō | NND/YT | daniwellP |
| 04 | あじさいのはながさくころ | Ajisai No Hana Ga Saku Koro | NND/YT | Peperon-P |
| 05 | レンアイゲーム | Renaigēmu / Love Game | NND/YT | natsu-P (SCL Project) |
| 06 | summer ring | summer ring | NND/YT | 亜沙 |
| 07 | なつやすみ | Natsu Yasumi | NND/YT | Signal-P |
| 08 | ふりさけみれば | Furisakemire Ba | NND/YT | Dixie Flatline |
| 09 | オソロシ夜 | Osoroshi Yoru | NND/YT | 鳩女 うたう文芸サークル |
| 10 | かみかくし | Kamikakushi | NND/YT | 鳩女 うたう文芸サークル |
| 11 | 月読遊戯 | Tsukiyomi Yūgi | NND/YT | Jesus-P Wonderful☆Opportunity |
| 12 | セピア | Sepia | NND/YT | Otetsu |
| 13 | 絶愛のシンフォニア | Zeaai No Shinfonia | NND/YT | マイナスP |
| 14 | とりっくおあとりーと | Torikkuo A Torito / Trick or Treat | NND/YT | やま△ |
| 15 | くつひもをほどいたら | Kutsu Himo O Hodoi Tara | NND/YT | Fuwari-P |
| 16 | それともおやつ? | Soretomo O Yatsu? | NND/YT | azuma |
| 17 | 瞬き | Mabataki | NND/YT | add9 |
| 18 | 顔面クリスマスケーキ | Ganmen Kurisumasu Kēki | NND/YT | Deadball-P |
| 19 | ストレンジアニマル | Sutorenjianimaru / Strange Animal | NND/YT | Pinocchio-P |
| 20 | なんという世の中なのさ | Nanto Iu Yononaka Na No Sa | YT | 鳩女 うたう文芸サークル |
| 21 | 箱庭ディストピア | Hakoniwa Disutopia | YT | Toraboruta-P |
References
Edit
External links
Edit