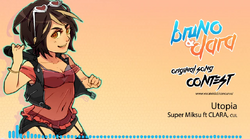 Song title
"Utopia (Super Miksu song)"
Uploaded September 21, 2014, with 330+ views
Singer(s)
Clara
CUL (backing vocals)
Producer(s)
Super Miksu (aka. Emmy K) (music, lyrics)
Links
YouTube Broadcast (VOCALOID.cl upload)

Background
Edit
"Utopia (Super Miksu song)" was an entry for the Bruno & Clara Original Song Contest hosted by VOCALOID.cl.
The genre is Electropop.
The featured translations (subtitled) are by Emmy K, who did English and Swedish, while the Spanish translation is by OkpOkpX2.
Swedish
Spanish (Subtitled)
English (Subtitled)
Jag ser mig omkring och väntar på dig
Mirando alrededor y esperando por ti
I'm looking around and waiting for you
Du tänker att vi borde ta lite frisk luft
Piensas que tal vez deberíamos tomar un poco de aire fresco
You think maybe we should get some fresh air
Så slut dina ögon och tänk på mig, och att du ger mig liv
Así que cierra tus ojos y piensa en mi, y de esa manera, la vida me das
So close your eyes and think of me, and that you give me life
Din kärlek får mig att flyga, och du får mig att sväva
Tu amor me hace volar, me haces despegar
Your love makes me fly, and you make me soar
Om du tillåter det
Y si me dejas
If you allow so
Så visa mig vägen till Utopia
Muéstrame el camino hacia la Utopía
So show me the way to Utopia


Jag ser en väg som leder till ett paradis
Veo el camino que se dirige al paraíso
I see a way that leads to a paradise
Drömmen som tar oss till en plats för alla
El sueño que nos llevará a un lugar para todos
The dream which will take us to a place for everyone
Så slut dina ögon och tänk på mig, och att du ger mig liv
Así que cierra tus ojos y piensa en mi, y de esa manera, la vida me das
So close your eyes and think of me, and that you give me life
Din kärlek får mig att flyga, och du får mig att sväva
Tu amor me hace volar, me haces despegar
Your love makes me fly, and you make me soar
Om du tillåter det
Y si me dejas
If you allow so
Så visa mig vägen till Utopia
Muéstrame el camino hacia la Utopía
So show me the way to Utopia


Till mitt Utopia
A mi Utopía
To my Utopia
Innan jag slumrar in i drömmarnas värld
Antes de partir al mundo de los sueños
Before I go in to the World of Dreams
Så vill jag säga att älskar jag dig
Te diré que te amo
Then I would say that I love you


Din kärlek får mig att flyga, och du får mig att sväva
Tu amor me hace volar, me haces despegar
Your love makes me fly, and you make me soar
Om du tillåter det
Y si me dejas
If you allow so
Så visa mig vägen till Utopia
Muéstrame el camino hacia la Utopía
So show me the way to Utopia
Till mitt Utopia
A mi Utopía
To my Utopia
Till mitt Utopia
A mi Utopía
To my Utopia
External links
Edit
| | |
| --- | --- |
| | Articles |