VOCALINA (보카리나) is a "text to speech" vocal synthesizer for singing, heavily influenced by VOCALOID3 in interface. It was developed in late 2011 by TGENS.
VOCALINA Studio was first revealed still in its beta stage, when bugs were still being adjusted. It is in the Korean language, and has similar functions to that of VOCALOID3's synthesis engine, with some extra ones as well, such as Reverb (REV), and Echo (ECO). Since it is a Studio, one is able to mix the vocals in real time, importing of the BGM is also allowed. The program launched with VORA, a virtual idol who was a high school girl and a diva. When SeeU, a Korean VOCALOID created around the same time VORA was released, there was rivalry between the two products. However, since then VORA has performed alongside SeeU in concert.[1]
Usage for Music
Edit
In terms of quality of singing results, VOCALINA notably produces a heavy amount of engine noise, but is sufficient in other areas.
What separates it from VOCALOID is its text-to-speech input method, rather than focusing on phonetics. Though this is a quick and easy method of inputting text, it also means that the software cannot stretch individual phonemes, only diphones, meaning that in longer notes the consonants will be awkwardly stretched or compressed in shorter notes, like in a poorly configured UTAU voicebank.
Vocalists
Edit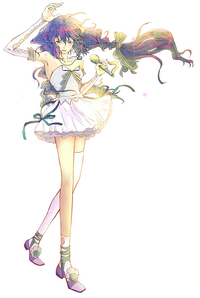 Choi Bora (최보라) (known by her stage name VORA (보라)) was the first VOCALINA vocal, and could be used for free in VOCALINA Studio, no purchase necessary. She was retired due to being incompatible with the new 2.3 update of the engine. Her known demo song is called Dream (드림).
Her favorite activities are singing and ICT, while she dislikes loud noises and raw ingredients. Her hobbies are listening to music and solving puzzles, her special skills are organizing and managing blogs. She is a diva in disguise, and has a webcomic about her daily life that you can read called Kiss My Life. She is the only child in her family.
VORA's voice is frowned upon in the Western community for its slight lisp, glitchiness, and lack of strong low notes. However, others admire her voice for being powerful and carrying emotion without much editing.


Age: 17 / Height: 160 cm / Weight: 43 kg / Birthday: March 20 / Blood Type: AB
Vocal Range: C4~F5 / Tempo: 70~180 BPM
---
Khylin (카일린) is the second VOCALINA voice. A demo was posted on August 17, 2012. You can hear it here. She's more realistic and smooth than VORA, but her high notes are weaker. She's better in lower ranged songs, but she can sustain longer notes more easily. Originally, in order to use Khylin, the user must buy a "ticket" from the VOCALINA website, which grants you usage of her voice for a year at maximum, before you need to renew your ticket with the price you paid before. However, since October of 2017 Khylin is now offered free of charge.


Age: 16 / Birthday: July 28
Vocal Range: E3~E5 / Tempo: 70~150 BPM
Examples of Usage
Edit
승인

Romaji/English
Seung-in (Rising Girl)
Featuring
VORA & SeeU
Author(s)
???
Category
Original song

Description

Example of VORA And SeeU singing an approved duet together
GET OUT BOY

| | |
| --- | --- |
| Featuring | UNI & Khylin |
| Author(s) | 5일 |
| Category | Original Song |
ENJOY THE PARTY

| | |
| --- | --- |
| Featuring | VORA |
| Author(s) | 5일 |
| Category | Original song |
Abandoned

Featuring
VORA
Author(s)
Sesilin (세시린)
Category
Concert cover

Description

The single "Abandoned" was performed LIVE at one of SeeU's concerts.
References
Edit
External links
Edit