This subject is event work in progress. The page needs constant updating and is currently not up to date being worked on.
For information on how to help, see the guidelines.  More subjects categorized here.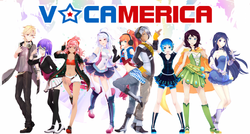 Event title
VOCAMERICA
Singer
DAINA, DEX, RUBY, MAIKA, AVANNA, YOHIOloid, Aiko Kikyuune, Namida, Viki Hopper, Regalia
Producer(s)
EmpathP • nostraightanswer (Lupin) • CircusP • Crusher-P • MystSaphyr • Gianluca (Makku-san) • MJQ • CYO Style • heart★breaker • Creep-P (Eyeris) • Elekitel (BIGHEAD) • VerseQuence • dezzy
Resources
https://vocamerica.com
Description
VOCAMERICA is a concert produced by Empathy Studios, or EmpathP.

Background
Edit
Previous Concerts: 
November 5th 2016: Nekocon in Hampton, Virginia
February 25-26th: ETSU-Con in Johnson City, Tennessee
 March 17-19th: Kigacon in Newport News, Virginia
 April 22nd: Tora-con in Rochester, New York
 April 29-30th: CPAC in Hoboken, New Jersey
 May 26-28th: AniMinneapolis in Minneapolis,...
October 7th 2017: Aki no Matsuri in Zofingen, Switzerland
November 3-5th 2017: Banzaicon in Columbia, South Carolina
November 10-12th 2017: Anime Iwai in Deerfield Beach, Florida
December 1-3rd 2017: Yama-Con in Pigeon Forge, Tennessee
Feburary 10-11th: Japan Weekend in Madrid, Spain
February 16-18: Katsucon in National Harbor, Maryland
March 16-18th: Kigacon in Newport News, Virginia (+ merchandise)
April 14-15: Tora-con in Rochester, New York

Upcoming Concerts:
May 25-27th: Animinneapolis in Minneapolis, Massachusetts
July 6-8th: Anime Midwest in Chicago, Illinois
November 9-11th: Anime Iwai in Fort Lauderdale, Flordia
No Concert, Will Be Selling Merch:

Entry fee: None besides convention fee; all concerts are at conventions
Playlist №: #2
Company: Empathy Studios
Associations: EmpathP, nostraightanswer (Lupin), CircusP, CrusherP
Song list
Edit