This song article is lacking a proper background. You can help by adding one! The relevant section in the Song Article Guideline is a good starting point, and this blog post may also be helpful. We apologize for the inconvenience this may cause in the meantime.

Song pages lacking proper backgrounds are automatically sorted into this category.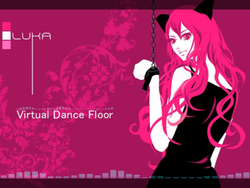 Song title
"Virtual Dance Floor"
Uploaded May 5, 2012, with 4,100+ views
Singer(s)
Megurine Luka
Producer(s)
tetsu (music)
Sahara (lyrics)
Murasaki mukade (illust)
Links
Niconico Broadcast
Background
Edit
"Virtual Dance Floor" is an original song by tetsu and Sahara featuring Megurine Luka.
Logged in and I send out IM's
To a-a-all my friends
Won't you come with us
Yeah I am bout to get outrageous

The virtual dance floor
Getting hotter than ever before
Party all night long
Yeah cuz this place is where we belong

Let's connect our hearts
The world is overflowing with music
We're never apart
Sharing the moment it feels damn sick

Can't ever reject
The flowing sound of the piano
Cuz it's so perfect
Dancing singing we gotta let go

Come and close your eyes
And I'll take you to the paradise
Free from any care
When open up your eyes I'll be there

The virtual dance floor
Getting hotter than ever before
Gather round tonight
Having some fun and that's a-alright

Holla at someone
Strike up a little conversation
Till we see the sun
Just ignite your inner sensation

We don't give a damn
About who's a boy or who's a girl
I am what I am
You're what you are and that is our world

Let's connect our hearts
The world is overflowing with music
We're never apart
Sharing the moment it feels damn sick

Can't ever reject
The flowing sound of the piano
Cuz it's so perfect
Dancing singing we gotta let go
External links
Edit
| | |
| --- | --- |
| | Lyrics |