Vocalina (보카리나) is a "text to speech" vocal synthesizer for singing and is much like Vocaloid3.
The software is of Korean origins. There is one vocal for the software currently "Vora". Just as Cantor was a rival to the English Vocaloid engine voicebanks, Vocalina is regarded as a rival to the SeeU Vocaloid 3 voicebank. A second "soft voice" vocal is due to be added to the software called "Khylin".[1]
Usage for Music
Edit
It terms of quality of singing results, Vocalina has poor quality in comparison to the Vocaloid and UTAU engines and produces a heavy amount of engine noise. It has a interface that is similar to the Vocaloid 3 interface.
What separates it from UTAU and Vocaloid is its Text-to-speech input method rather then focusing on phonetic input like UTAU and Vocaloid. Though this is a quick and easy method of inputting text, it also means that it cannot distinguish consonant and vowel phonemes, meaning that in longer notes the consonants will be awkwardly stretched out and will be compressed in shorter notes.
Vora's name means Violet. She is the only child in her family.
Her favorite activities are singing and ICT. She dislikes loud noises and raw ingredients. Her hobbies are listening to music and solving puzzles. And her special skills is organizing and managing blogs.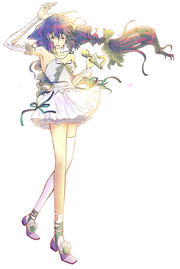 Name: Choi Vora (최보라)
Stage Name: Vora (보라)
Release Date: October 7, 2011
Age: 17
Tempo: 70~180 BPM
Vocal Range: C4~F5
Blood Type: AB
Height: 5' 3" ft (160cm)
Weight: 95 lbs (43kg)
Birthday: March 20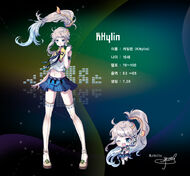 KHylin is an upcoming Vocalina voice. A demo has been posted on August 17, 2012. You can hear it here
She appears to be a bit more realistic and smoother than Vora.
Name: KHylin
Age: 16
Tempo: 70~150 BPM
Voice Range: E3~E5
Birthday: July 28
Notice: Due to the number of artwork both official and non-official, only significant artwork and MMD models will be listed. And please, respect the producers of the models and do not distribute illegally or edit without permission. In some cases, a producer known or unknown may have already ceased distribution of said model, possibly due to violations of the terms of use.
References
Edit
External links
Edit