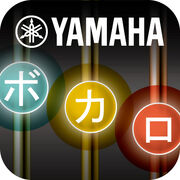 Vocalodama (ボカロダマ) is a iOS game produced by Yamaha using the VOCALOID technology.
The game features several modes of difficulty. Several songs (which are purchased as packs at 300yen each) are supplied. The application comes with 3 songs free and uses a basic version of the VY1 vocal to power the songs.
The object of the game is to slide the correct colour icons to the right path as they move down each line of the song. This will cause VY1 (the singer for the app) to sing the note correctly as it should be in the song.
Song list
Edit
External links
Edit
Ad blocker interference detected!
Wikia is a free-to-use site that makes money from advertising. We have a modified experience for viewers using ad blockers

Wikia is not accessible if you've made further modifications. Remove the custom ad blocker rule(s) and the page will load as expected.