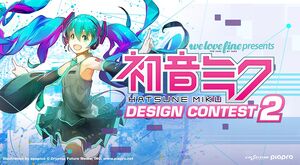 WeLoveFine presents Hatsune Miku Design Contest 2 is a contest hosted by WeLoveFine on August 5, 2014. It is an art contest to design an illustration to be put on a t-shirt.
Contest Details
Edit
Contestants had until September 2, 2014 to submit an illustration featuring Hatsune Miku (or other Crypton Future Media, Inc. Vocaloids) to be used for a T-shirt design. Ratings for the design began on August 26 and ended on September 16th.
Up to 5 entries can be submitted.
Make your design original; entries which contain too much 3rd party/copyrighted/inappropiate materials will not be accepted
Must have one of Crypton's Vocaloids in the design (Miku, Rin, Len, Luka, Kaito and/or Meiko). Any other Vocaloid is not permitted.
Designs must be your own creation, use of other original Miku artwork is forbidden.
The recomended file size is 15 by 19 inches, or 300 dpi, or "as close as your art program can handle as possible". If the image is deemed too small to fit on a T-shirt then it may hurt your chances of winning, similary if the image is deemed too large.
File format must be either GIF, PNG or JPG.
The grand prize is a trip to HATSUNE MIKU EXPO 2014 in either Los Angeles or New York, as well as having the illustration put onto a t-shirt. The trip will include 2 tickets, one round trip airfare (for US residents only) and 2 nights at a lodge near the convention.

As well as the grand prize judges will pick 3 winners to receive $400, plus Hot Topic will pick 1 entry to receive $300.
Winning Entries
Edit
External links
Edit
No links associated with Rebecca Varela were found