This song article is lacking a proper background. You can help by adding one! The relevant section in the Song Article Guideline is a good starting point, and this blog post may also be helpful. We apologize for the inconvenience this may cause in the meantime.

Song pages lacking proper backgrounds are automatically sorted into this category.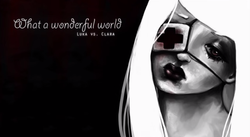 Song title
"What a Wonderful World"
Uploaded March 12, 2012, with 3,650+ views
Singer(s)
Clara and Megurine Luka
Producer(s)
HorizonsP (music)
Tinker91 (illust)
SweetNighctore (arrangement, lyrics)
trk (encoding)
Links
YouTube Broadcast
Background
Edit
| | | |
| --- | --- | --- |
| " | Welcome to the creepy part of youtube~ e.e | " |
What a Wonderful World is an original song by HorizonsP featuring Clara and Luka.
Spanish
English
Golden interlude has begun this night,
Golden interlude has begun this night,
these weird lights around us make feel the fright.
these weird lights around us make feel the fright.
I said "I need you", but all I got from you was harm
I said "I need you", but all I got from you was harm
And the most hateful answers.
And the most hateful answers.


Una vida jutos, hoy no me impedirá
Such a life together, today it won't inhibit me
Pensar en mil formas de consumar
Think about millions of forms to consummate
Todo mi rancor, que poco a poco se cierne
All of my rancor, that slowly is looming
Pa' devorar mi cordura
To demolish my mental health


I could burn off your visage,
I could burn off your visage,
I could make your torso melts,
I could make your torso melts,
I could spray acid over all your body.
I could spray acid over all your body.
I'll make one except I
I'll make one except I
Be able to love what I'll
Be able to love what I'll
Externalize the monster on your insides.
Externalize the monster on your insides.


Carazón, quiero poder demonstrate
Honey, I want to demonstrate you
Que sin piel, solo yo podré amarte
Without skin, just I will still adorating you
Nadie más habrá, sólamente tú y yo, eternamente
Nobody will be, nobody except me and you, for all eternity


Have you ever thought that this as a wonderful world?
Have you ever thought that this as a wonderful world?
The most amazing of them…
The most amazing of them…
You're so attractive, then I'll show you the real yourself.
You're so attractive, then I'll show you the real yourself.


Ni se te ocurra pensar que he perdido el juicio
don't think about how
Al vivir de ésta manera.
I'm mad acting by this way
Déjate llevar, voy a preparer todo para operarte
Please, relax, I'm gonna prepare all to begin your operation


General anesthesia, take scalpel and scissors.
General anesthesia, take scalpel and scissors.
Why don't you appreciate my decision yet?
Why don't you appreciate my decision yet?


Soy tu dueña, tu me pertences.
You're all mine, I'm your owner
Para evitar riegos, voy a deformarte
To elude the risk, I'm gonna deform you


Circles / de luz, over / su tez
Circles / The sun, over / Her complexion
Glow dim / sin más, it can't / respirar
Glow dim / without that, it can't / breathing
Abre bien tu ojos, eras tan perfecto…
open your eyes now, you were so perfect…
Now you look so horrifying, dear.
Now you look so horrifying, dear.


Have you ever thought that this as a wonderful world?
Have you ever thought that this as a wonderful world?
The most amazing of them…
The most amazing of them…
You're so attractive, then I'll show you the real yourself.
You're so attractive, then I'll show you the real yourself.


Ni se te ocurra pensar que he perdido el juicio
don't think about how
Al vivir de ésta manera.
I'm mad acting by this way
Déjate llevar, voy a preparer todo para ocultarte
Please, relax, I'm gonna prepare all to hide you