This song article is lacking a proper background. You can help by adding one! The relevant section in the Song Article Guideline is a good starting point, and this blog post may also be helpful. We apologize for the inconvenience this may cause in the meantime.

Song pages lacking proper backgrounds are automatically sorted into this category.
For the song by Machigerita-P, see ホワイト・デイ (White Day).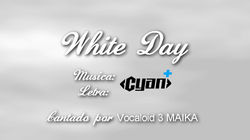 Song title
"White Day"
Uploaded March 14, 2014, with 903+ views
Singer(s)
MAIKA
Producer(s)
Cyan Pluss (music, lyrics)
Links
YouTube Broadcast
Background
Edit
White Day is an original song by Cyan Pluss originally sung by MAIKA and was entered in the MAIKA Original Song Contest.
Amor donde quieras que estés
al alba estoy
cuando todo duerma
te robaré mi color

Siempre solíamos
jugar juntos
unidos inseparables
recuerdos de vos imborrables
y entre tus manos soñar...

Amor nunca me olvides
vos sos parte de mí
como la primera vez
en que te conocí

Amor cuando vos regreses
acá te esperaré
y cuando me abraces
te robaré mi color

Y así fueron pasando los años
crecimos y fue inevitable
no vernos y no sonrrojarnos
quien lo iba a creer...