Windows8入れたのにタッチパネルにならない (Windows8 Ireta no ni Touch Panel ni Naranai)
Comments

0
Share
Ad blocker interference detected!
Wikia is a free-to-use site that makes money from advertising. We have a modified experience for viewers using ad blockers

Wikia is not accessible if you've made further modifications. Remove the custom ad blocker rule(s) and the page will load as expected.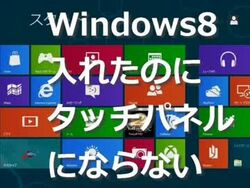 Song title
"Windows8入れたのにタッチパネルにならない"
Romaji: Windows8 Ireta no ni Touch Panel ni Naranai
English: Even Though I Installed Windows 8, My Screen Won't Become a Touch Screen
Uploaded October 27, 2012, with 96,000+ views
Singer(s)
Hatsune Miku
Producer(s)
Hobonichi-P
Links
Niconico Broadcast
Background
Edit
Another one of Hobonichi-P's songs inspired by the latest happenings, this time of a joke about people finding that installing Windows 8 would not give a screen touchscreen capabilities.
Preceding versions
Edit
Japanese (日本語歌詞)
Romaji (ローマ字)
焦るよ
aseru yo
Windows8早速買ったのに
Windows 8 sassoku katta noni
タッチパネルに変わらない
tacchipaneru ni kawaranai


iPadみたくなるはずのに
iPad mitakunaruhazu noni
画面押しても動かない
gamen oshite mo ugokanai


無理やり
muriyari
タップしたって
tappushita tte
フリックしたって
furikkushita tte
うんともすんとも動かない
untomosuntomo ugokanai


冷たく刺さる家族の視線
tsumetaku sasaru kazoku no shisen
誰か助けて動かして
dareka tasukete ugokashite


どうして何も起こらないのか
doushite nani mo okoranai no ka
頭の中は真っ白け
atama no naka wa masshiroke


アキバ並んで買ってきた
akiba narande kattekita
Windows8のOS
Windows8 no OS


いったい何がいけなかったのか
ittai nani ga ikenakatta no ka
ミスするなんてありえない
misusuru nante arienai


マニュアル通りに完璧に
manyuaru toori ni kanpeki ni
インストールもしたのに
insutooru mo shita noni


画面触るだけで動くと
gamen sawaru dake de ugoku to
家族も楽しみにしてる
kazoku mo tanoshimi ni shiteru


もしかしてこれが噂の
moshikashite kore ga uwasa no
「初期不良」なんじゃあるまいか
"shoki furyou" nan ja aru mai ka


焦るよ
aseru yo
Windows8早速買ったのに
Windows8 sassoku katta noni
タッチパネルに変わらない
tacchipaneru ni kawaranai


パネルの感度が良くないのか
paneru no kando ga yokunai no ka
もっと体重かけなくちゃ
motto taijuu kakenakucha


無理やり
muriyari
何度も強く画面押してたら
nando mo tsuyoku gamen oshitetara
なんか黒いのが出てくるし
nanka kuroi no ga detekuru shi
今更ながらこんなことなら
imasara nagara kon'na koto nara


iPad買っときゃよかった
iPad kattokya yokatta
External links
Edit