winner loser——你们以为这样就结束了嘛 (winner loser——Nǐmen Yǐwéi Zhèyàng Jiù Jiéshùle Ma)
Comments

3
Share
Ad blocker interference detected!
Wikia is a free-to-use site that makes money from advertising. We have a modified experience for viewers using ad blockers

Wikia is not accessible if you've made further modifications. Remove the custom ad blocker rule(s) and the page will load as expected.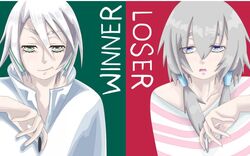 Song title
"winner loser——你们以为这样就结束了嘛"
Traditional Chinese: winner loser——你們以為這樣就結束了嘛
Pinyin: winner loser——Nǐmen Yǐwéi Zhèyàng Jiù Jiéshùle Ma
Uploaded June 8, 2015, with 135,500+ views
Singer(s)
Luo Tianyi, YANHE, YOHIOloid
KAITO (harmony)
Producer(s)
Heibai-P (compose, arrange, lyrics, tuning, video editor)
fall of fall, 圣狱戏梦 (illustration)
Links
YouTube Broadcast (reprint)
bilibili Broadcast

Background
Edit
This is an original song featuring Luo Tianyi, YANHE and YOHIOloid.
It talks about how there are different occupations and careers everywhere, and how students and just people in general are constantly pressured to come out as the "winner", stating the stress of choosing a college and keeping up with school. But at the same time, they also say that in the end, everyone is a "loser" because our lives follow a routine that eventually end in death.
This song has exceeded 100,000 views on bilibili.
Chinese (中文歌词)
Pinyin (拼音)
singer
writer
fire-fighter
winner
loser
winner loser——


doctor
teacher
actor
banker
winner
loser
winner loser——


啊啦 明白了吧 认了吧
a la mingbaile ba renle ba
不要 挣扎啦
buyao zhengzha la
世界啦 生活啦
shijie la shenghuo la
就是 这个样的啦
jiushi zhege yang de la
中高考 工作结婚生子
zhong gaokao gongzuo jiehun shengzi
然后 老啦
ranhou lao la
某一天呢 突然就
mou yitian ne turan jiu
翘辫子啦
qiaobianzi la


好像没几个月了吧 能进哪个学校呀?呐
haoxiang mei ji ge yuele ba neng jin nage xuexiao ya? Na
今年毕业吧 打算找什么工作呀?呐
jinnian biye ba dasuan zhao shenme gongzuo ya? Na
谈恋爱了吧 还没有?我给你介绍一个呀
tan lian'aile ba hai meiyou? Wo gei ni jieshao yige ya
你三个表姐呐 全都已经结婚了哦
ni san ge biaojie na quandou yijing jiehunle o
都几岁了 可以不要再那么中二了吗 呐
dou ji suile keyi buyao zai name zhong erle ma na
人家在努力的时候 你特么在干吗
renjia zai nuli de shihou ni te me zai ganma
是时候承认了吧 你不过就是 普通人啊
shi shihou chengrenle ba ni buguo jiushi putong ren a
在玩游戏还是 游戏在玩你呢
zai wan youxi haishi youxi zai wan ni ne
Loser


想去二次元啊 想要能力天赋 想被爱啊
xiang qu er ciyuan a xiang yao nengli tianfu xiang bei ai a
想回到过去啊 看 祖国的花朵 啊哈哈哈
xiang hui dao guoqu a kan zuguo de huaduo a haha ha
来啊 攻略对象 展开吧!为什么这么冷淡
lai a gonglüe duixiang zhankai ba! Weisheme zheme lengdan
那个对不起啊 现实就是 无限慢速的说
nage duibuqi a xianshi jiushi wuxian man su de shuo
平时的时候 总是盼着 马上马上放假了
pingshi de shihou zong shi panzhe mashang mashang fangjiale
诺 考完试了放假了 爽吧?卧槽好无聊啊
nuo kao wan shile fangjiale shuang ba? Wo cao hao wuliao a
计划呢梦想呢 努力的目标呢 还记得吗
jihua ne mengxiang ne nuli de mubiao ne hai jide ma
可悲的loser 继续吧 幻想世界 脑洞全开
kebei de loser jixu ba huanxiang shijie nao dong quan kai


呐。累吗。
na. lei ma.
不过是首中二的歌
buguo shi shou zhong er de ge
生活世界根本没有
shenghuo shijie genben meiyou
发生任何酷炫 微小 极大 极赞 极差 极好 极坏 极神 极傻 极二
fasheng renhe ku xuan weixiao ji da ji zan ji cha ji hao ji huai ji shen ji sha ji er
的改变啊!
de gaibian a!


buyer
anchor
tailor
lawyer
winner
loser
winner loser——


planner
waitor
operator
winner
loser
winner loser——


蛤蛤 少儿频道!
ha ha shao'er pindao!


啊啦 有些事 还记得吗?
a la youxie shi hai jide ma?
不记得 了吗
bu ji de le ma
开学第一天 课本没带
kaixue di yi tian keben mei dai
被发现啦!
bei fa xian la!
暗恋着 XXX
anlianzhe XXX
结果 还真告白啦
jieguo hai zhen gaobai la
当然被拒啦 小说看多了吧
dangran bei ju la xiaoshuo kan duole ba
在书上乱涂乱画
zai shu shang luan tu luan hua
隔着栅栏买奶茶
gezhe zhalan mai naicha
默写不怕有小抄
moxie bupa you xiaochao
别睡啦你站着吧
bie shui la ni zhanzhe ba


为铁条所分割
wei tie tiao suo fenge
支离破碎的玻璃窗
zhiliposui de boli chuang
空气中细碎扬起
kongqi zhong xisui yang qi
飘上又落下积起的尘埃
piao shang you luoxia ji qi de chen'ai
刚擦过吗。
gang caguo ma.
好像没几分钟 电脑上又全是灰了
haoxiang mei ji fenzhong diannao shang you quan shi huile
今天明天后天 空气质量 全是 重度污染
jintian mingtian houtian kongqi zhi liang quan shi zhongdu wuran
无数被固执的犬吠 拽出梦里的凌晨
wushu bei guzhi de quanfei zhuai chu meng li de lingchen
无数被狂躁的车笛 撕破了的清晨
wushu bei kuangzao de ju di si pole de qingchen
试图用旋律 来盖过 机械引擎的轰鸣声
shitu yong xuanlü lai gaiguo jixie yinqing de hongming sheng
想要的只是 无人打扰的清明梦
xiang yao de zhishi wu ren darao de qingming meng
高架桥下高楼群旁 曾矗立的破厂房
gaojiaqiao xia gaolou qun pang ceng chuli de po changfang
随着轰隆作响的机械臂 与那颗在宁静夏风中
suizhe honglong zuo xiang de jixie bi yu na ke zai ningjing xia feng zhong
摇曳的柳树一同 倾斜倒塌
yaoye de liushu yitong qingxie daota
然而弱小的Loser 并不能改变那些
ran'er ruoxiao de Loser bing buneng gaibian naxie
唯独能改变的 就是 不能直视的自己啊
wei du neng gaibian de jiushi buneng zhi shi de ziji a
一直逃避着的 沉溺在 想象中的自己啊
yizhi taobizhe de chenni zai xiangxiang zhong de ziji a
拿起又放下的 看起来 没有结果的梦啊
na qi you fangxia de kan qilai meiyou jieguo de meng a
追逐它的时间 付出多少 借口又是多少
zhuizhu ta de shijian fuchu duoshao jiekou you shi duoshao
能从心感受的 那份快乐 流失在哪了呢
neng cong xin ganshou di na fen kuaile liushi zai nale ne
游戏散场后的 视频结束后的 那份空虚
youxi sanchang hou de shipin jieshu hou di na fen kongxu
仿佛永远无法 填满的空洞啊 就在心里
fangfu yongyuan wufa tian man de kongdong a jiu zai xinli


呐。累吗。
na. lei ma.
的确是首中二的歌
dique shi shou zhong er de ge
但能让自己的生活
dan neng rang ziji de shenghuo
发生那些
fasheng naxie
酷炫 微小 极大 极赞 极差 极好 极坏 极神 极傻 极二
ku xuan weixiao ji da ji zan ji cha ji hao ji huai ji shen ji sha ji er
的改变的唯自己啊!!!
de gaibian de wei ziji a!!!


啊啦 明白了吧 认了吧
a la mingbaile ba renle ba
不要挣扎啦
buyao zhengzha la
世界啦 生活啦
shijie la shenghuo la
就是 这个样的啦
jiushi zhege yang de la
中高考 工作结婚生子
zhong gaokao gongzuo jiehun shengzi
然后 老啦
ranhou lao la
某一天呢 突然就
mou yitian ne turan jiu
翘辫子啦
qiaobianzi la


所以要去珍惜吧
suoyi yao qu zhenxi ba
所以要去发现吧
suoyi yao qu faxian ba
所以要爱自己吧
suoyi yao ai ziji ba
所以试着去爱吧 这世界
suoyi shizhe qu ai ba zhe shijie